Yangcheng Lake crabs have hit the market, with this year's harvest season kicking off in the Bacheng town of Kunshan, Jiangsu province, on Sept 23.
A large number of mitten crabs are sold to big cities like Beijing, Shanghai, Guangzhou and Hong Kong in the 9th and 10th lunar month every year, with each going through breeding, harvesting, selection, distribution and delivery.
Yangcheng Lake crabs are reputed to have the best taste among all varieties of hairy crabs. Also known as the big sluice crab, the Chinese mitten crabs are favored by many gourmet-lovers and sell well both online and in real markets.
Yangcheng Lake crabs range in price from 20 to 100 yuan ($3-16), while ordinary mitten crabs cost about 10 to 20 yuan, according to online shopping sites.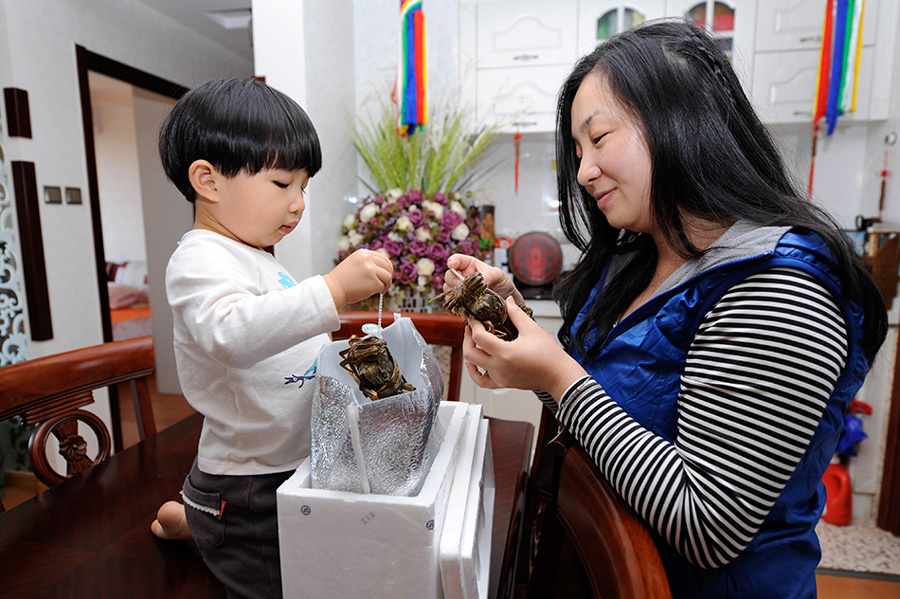 A customer checks the Yangcheng Lake crabs she purchased online with her daughter in Beijing, China. [Photo/Xinhua]