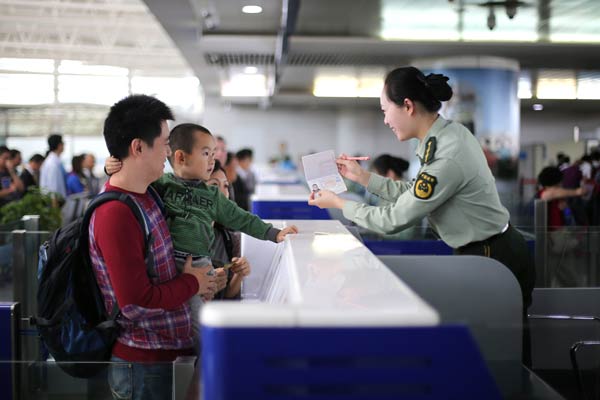 A Chinese family undergoing passport checks ahead of an overseas trip at the airport in Qingdao, Shandong province. There were more than 1 billion outbound tourists globally in 2013, and one in 10 of those travelers was Chinese. XIE HAO/CHINA DAILY
By 2020, China will become the biggest travel destination country and the fourth-largest source of tourists in the world, according to the United Nations World Tourism Organization.
The growing ranks of Chinese tourists and their burgeoning spending power have created a boom in the domestic market and triggered competition for their business among overseas destinations.
UNWTO figures show that in 2013, there were more than 1 billion outbound tourists globally. One in 10 of those travelers was Chinese, and that ratio is expected to rise.
Those Chinese tourists spent about $128.7 billion, up 26.8 percent year-on-year.
It is not just rich Chinese who are going abroad. More ordinary people are choosing to take trips overseas, and a notable trend has been the rise in outbound tourists from second- and third-tier cities.
There has also been a marked rise in travelers "going it alone" rather than joining tours, and that is affecting the mix of destinations and accommodation.
These rapid changes are transforming the industry. Physical outlets are becoming less attractive to travelers, as more plan and pay for their trips online. To compete, travel agencies are improving their services and targeting specific market segments.
These changing trends in China's outbound tourism are affecting the global tourism market. The total number of destination countries and regions open to Chinese tourists stands at 150. Among those, 47 countries and regions have a visa-free or transit-visa policy for Chinese nationals.
Four trends that are changing the industry have emerged in China.
First, many tourists want to enjoy some leisure time during their vacations. Instead of just taking in the main attractions, Chinese tourists want to experience the culture and lifestyle of the places they visit.
Second, customized individual itineraries are preferred to traditional group tours. According to Ctrip.com International Ltd, when visiting destinations in Asia, such as Thailand, Japan or South Korea, more than 50 percent of Chinese tourists are designing their own tours instead of booking a package. With many countries easing visa requirements for Chinese travelers, it is getting easier to have a do-it-yourself tour.
Third, online services are most popular with those born after 1980. They are used to scouring the Internet for the best deals on everything.
Fourth, spending power has increased and Chinese are becoming more discerning consumers. Cheap mass-market travel products no longer meet their needs, so a more expensive but better-quality market that caters to specific segments has begun to flourish. This market includes self-driving tours, cruises and parent-child travel packages.
The global tourism business will continue to evolve as it adapts to meet the changing and booming demand of Chinese outbound tourists.
The author is a researcher at the Tourism College of Zhejiang.