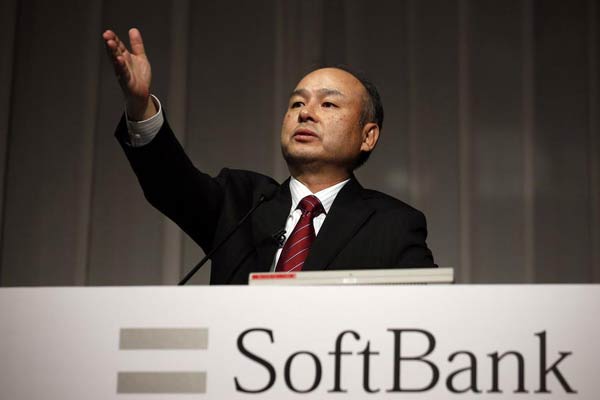 SoftBank Corp Chief Executive Masayoshi Son attends a news conference in Tokyo May 7, 2014. [Photo/Agencies]
Proxy buying loses steam as more investors take direct market route
SoftBank Corp fell the most in seven months after Alibaba Group Holding Ltd went public, as investors who were buying the Japanese carrier as a proxy for the Chinese company could now purchase Alibaba shares directly.
SoftBank, the biggest shareholder in the e-commerce company with about one-third of its equity, tumbled 6.1 percent to close at 8,207 yen ($75.30) in Tokyo for its biggest drop since Feb 3. Japan's third-largest carrier had gained 29 percent between Aug 8 and Alibaba's listing in New York on Friday.
Alibaba surged 38 percent in its US trading debut after raising a record amount in an initial public offering. The company is now valued at more than $231 billion, and Japan's third-largest carrier forecast a gain of about 500 billion yen related to the listing.
"If you want the Alibaba exposure, you just buy Alibaba," Amir Anvarzadeh, a manager of Japanese equity sales at BGC Partners Inc in Singapore, said in a phone interview. "SoftBank's 25 percent surge the past few weeks was partly due to the fact that the Alibaba listing was pending, was finally coming through, and I think people were just short-covering ahead of the event."
Another big Alibaba shareholder, Yahoo Inc, also dropped after Alibaba's debut on Friday. The Web portal's shares fell 2.7 percent to $40.93, and it now is worth less than the value of its Asian assets. Yahoo sold more than 20 percent of its Alibaba shares in the Chinese company's IPO.
China Dongxiang Group Co, which said in September 2011 it planned to commit $100 million in a limited partnership established to invest in Alibaba, tumbled as much as 12 percent in Hong Kong trading.
Alibaba's IPO became the biggest ever at $25 billion after bankers exercised an option to boost the deal size by 15 percent on strong demand, a person familiar with the matter said. The underwriters exercised a so-called greenshoe option to sell an additional 48 million American depositary shares, said the person, who asked not to be identified as the information is private.
SoftBank's forecast of a one-time gain of about 500 billion yen was related to a previously announced conversion of preferred Alibaba shares into ordinary shares, and the dilution of its equity stake in the Chinese company. SoftBank's stake was lowered after Alibaba issued new shares last week.
The Japanese wireless carrier does not plan to issue additional profit forecasts related to Alibaba's IPO listing, Hiroe Kotera, a spokeswoman for SoftBank, said by e-mail. SoftBank did not plan to sell shares and will have a 32.4 percent stake, according to the prospectus.
Masayoshi Son's company may use some of that stake as collateral to raise money for strengthening US operations that include Sprint Corp, Anvarzadeh said. Sprint is the No 3 US carrier, trailing AT&T Inc and Verizon Communications Inc. It failed in a recent effort to merge with No 4 T-Mobile US Inc.