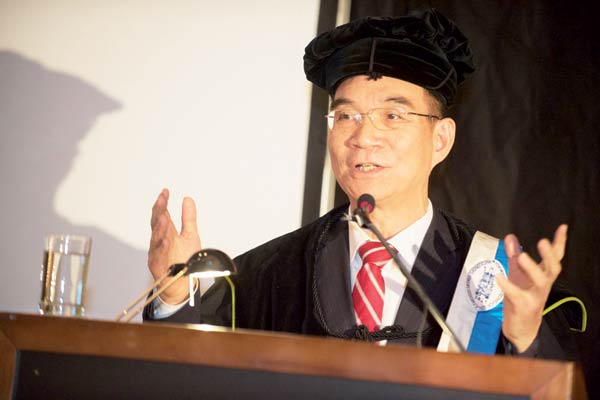 Justin Yifu Lin received an honorary doctorate from Vlerick Business School and Catholic University of Leuven in Belgium on Sept 8. CHINA DAILY
He used basketballs to help him swim to mainland, and now helps keep national economy above water
On a night in May 1979, as China was launching its reform and opening-up drive, a young soldier from Taiwan braved the Taiwan Straits by swimming from the outlying island of Quemoy to the mainland using basketballs as a floatation device.
Justin Yifu Lin went on to gain a master's degree in political economics at Peking University, and then a doctorate in economics at the University of Chicago. He gained global prominence, once serving as a World Bank chief economist.
While he sharpened his free market thinking, he tailored it to the Chinese vision of the balanced roles of the government and the market's invisible hand.
Partly because of the contributions of scholars such as Lin, China has achieved more than three decades of rapid growth. And he believes that with some adjustments, the country still has the potential to sustain the miracle for another 20 years.
Lin also believes that China's successful experiences and development patterns can be copied by economies that are still catching up, especially those in Africa. He has encouraged Ethiopian leaders to take that path, and Chinese leather and shoemaking plants have started to shift to Ethiopia, which is primed for an economic takeoff.
His thoughts on the economics of development show an independent streak, reflected in his 25 books with titles such as Against the Consensus: Reflections on the Great Recession.
Lin, an adviser to the Chinese government and professor at Peking University, is the Chinese economist most widely recognized in the West. Vlerick Business School and Catholic University of Leuven in Belgium awarded him an honorary doctorate on Sept 8.
At the ceremony in Belgium, Louis-Henri Verbeke, chairman of Vlerick Business School, heaped praise on Lin.
"He is not the only economist who 'begs to disagree'. Very few, however, distinguish themselves in so doing as world-class players. Even fewer give credit to their team rather than themselves for so doing.
"Almost none have created an institution which provides first-rate thinking to a leading nation and trains that nation's economic leaders."
Lin is founding director of the China Center for Economic Research at Peking University.
After the introduction, Lin spoke to the students and professors at length on why he thinks China can achieve long-term economic growth, the gap between China and developed economies, China's costs and potential, and the global significance of China's success.
Lin says he is quite confident China has the potential to maintain annual growth rate of 8 percent for the next 20 years if its deepening of domestic reforms is successful and global conditions allow.
"What I mean is the potential, and I must emphasize that," Lin says.
In 2008, China's per capita income was 21 percent that of the United States as measured in purchasing power parity, which indicates that there is still a large technological gap between China and advanced economies, he says. "So China can continue to enjoy the advantages of backwardness before closing up gaps."
China is faced with an economic downturn while it has begun to shift its economic engines from relying on investment and trade to being driven by consumption. During the process of shifting economic development patterns, Lin says, China has to come to terms with three major challenges: income disparity, corruption and environmental pollution.