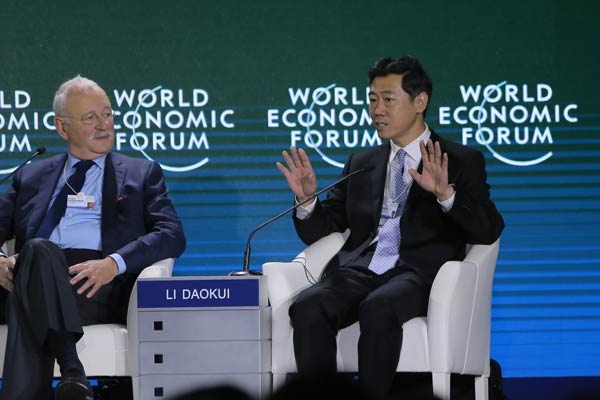 Li Daokui (right), professor at Tsinghua University, speaks at a panel discussion in Tianjin on Sept 10, 2014 as Victor Halberstadt, professor at the University of Leiden, listens. [Provided to chinadaily.com.cn]
Japanese Prime Minister Shinzo Abe's strategy of working with India rather than China does not make sense in business and economic perspective, Li Daokui, director of the Center for China in the World Economy at Tsinghua University, told a Thursday panel during the World Economic Forum in Tianjin.
"From pure business and economic reasons, Abe's strategy of working with India, not with China, doesn't make sense. Chinese market is four times as large as India and is growing faster. The market is much bigger in China. Forgetting the big market and working with a small one, that doesn't make sense," said Li, a former central bank academic adviser.
"I think political motivation rather than business interest is behind Prime Minister Abe's strategy... Whether Abe's strategy is working or not, so far I haven't seen major success. … I am a bit pessimistic about the prospect of the Japanese economy," he added.