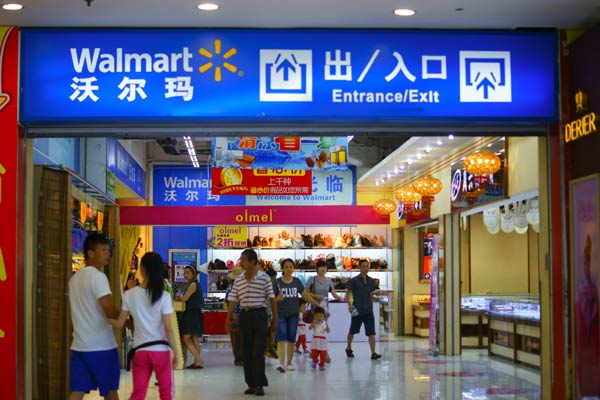 A Wal-Mart supermarket is seen in Yichang, Hubei province. Wal-Mart Stores Inc is building its first community shopping center in China in Zhuhai, Guangdong province. ZHOU JIANPING/CHINA DAILY
Wal-Mart Stores Inc is building its first community shopping center in China, a move that the retailer hopes will ultimately give it more control over store layouts as it grapples with high commercial rents in the nation.
The center, named The Mall Zhuhai, will be in the southern Chinese city of Zhuhai, Guangdong province.
The projected cost is 600 million yuan ($96.7 million) and the area will total 100,000 square meters.
Home to the retailer's high-end membership warehouse chain Sam's Club, the complex will be the first shopping mall developed, built and managed by Wal-Mart. It is expected to open for business in 2016, according to Wal-Mart China.
The move is a sign that the United States-based retailer has started to "take ownership of design and creation of the ecosystem of its stores" by selecting and building its own commercial property site, said Jason Yu, general manager of Kantar World-panel, a research institute and consultant on the fast-moving consumer goods market.
The decision will give Wal-Mart more control over such tangible factors as the infrastructure of the center and rental costs as well as the "shopping experience" for consumers, Yu said.
Most retailers in China rent their space from developers, and they inevitably face challenges if rents increase significantly after the first 10-year lease, Yu said. They also have no control over their neighboring stores, which can affect consumers' experience.
Also, in the retail business, shopping centers or outlets are growing at the expense of traditional department stores as consumers prefer to do one-stop shopping. Zhuhai is a key market in the Pearl River Delta region, and Sam's Club is well-positioned to attract the growing number of middle-class shoppers there, Yu said.
Ben Cavender, principal at the China Market Research Group, said that direct ownership of the center can help Wal-Mart generate revenue by renting spaces to other retailers of its choice.
Sam's Club was founded in 1983 in the US. The first Sam's Club in China opened in Shenzhen in 1996 and there are now 10 clubs in eight cities, with online delivery service also available.