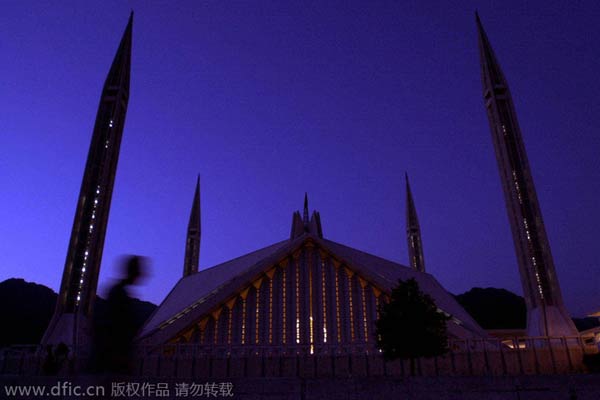 A Pakistani man walks past the Shah Faisal Mosque Saturday September 29, 2001 in Islamabad, Pakistan. [Photo/IC]
A Chinese tourist visiting Pakistan's attractions tends to get the superstar treatment, constantly being stopped and asked for "one photo please".
But sadly, Chinese travelers, like others from abroad, are missing out on the joys of Pakistani hospitality, having second thoughts about this destination due to world media headlines of terrorist attacks. In fact, the country has a lot to offer and many of the fears are unfounded.
There are certainly challenges in driving on the Karakoram Highway connecting China and Pakistan - the highest paved international road in the world - or climbing the country's majestic snow mountains. But even a visit to the capital city of Islamabad, and the former Mughal capital Lahore, offers much to enjoy.
Here are some ideas and sights for traveler's reference:
Taxila
Located about 35 km from Islamabad, Taxila is one of the most important archeological sites in South Asia. The ancient city, with more than 2,000 years of history, has been famous as a center for Gandhara (600 BC to AD 500 ) art in sculpture and architecture, and Buddhism in the days of Buddhist glory.
Taxila is on UNESCO's World Heritage List. Visitors will appreciate the city ruins, getting a taste of the ancient Taxila lifestyle from the many unearthed Buddhist statues, along with Gandhara-style pottery, inscriptions, stones, coins and household utensils kept in the museum.
Badshahi Mosque
The Badshahi Mosque is Lahore's most famous landmark. Completed in 1673, it is considered the "imperial" mosque and is the second largest in Pakistan, epitomizing the beauty, passion and grandeur of the Mughal era.
The inside walls of the main prayer hall are covered with rich stucco tracery, fresco work and inlaid marble. The exterior is decorated with fine stone carving and marble inlay on red sandstone.
This building - also a UNESCO World Heritage Site - sums up the Muslim world's mosque architectural styles through the thousand years of history prior to its construction.
Wagah border
The "lowering of the flags" ceremony is a military practice conducted jointly every day before sunset by the Indian and Pakistani security forces, at the Wagah border, about 17 km from Lahore.
The ceremony starts with a blustering parade by the two nations' soldiers and ends in the perfectly coordinated lowering of their flags. Thousands of Pakistanis and Indians turn out to view the spectacle. Watching them hold their national flags, shout slogans and cheer passionately for their soldiers is an unforgettable experience.
Shah Faisal Mosque
Nestled at the foot of Islamabad's Margalla Hills with a picturesque backdrop, Shah Faisal Mosque is the largest mosque in Pakistan and one of the largest in the world. It was designed by Turkish architect Vedat Dalokay and completed in 1986.
Shah Faisal Mosque lacks the traditional domes and arches of so many of the world's mosques, instead fusing contemporary lines with the more traditional look of a Bedouin desert tent. This mosque was a gift from King Faisal of Saudi Arabia, and can hold more than 100,000 worshippers.
Lahore Fort
Yet another World Heritage Site is Lahore Fort, located next to Badshahi Mosque with an appealing "abandoned" atmosphere.
The fort was given its current form in 1566 by Mughal Emperor Akbar, after being built, damaged, demolished, rebuilt and restored several times.
Shopping and dining
Shopping can be a great experience for visitors, whether buying international brands at shopping malls - at prices much cheaper than elsewhere - or exploring the outlets selling high-quality local souvenirs, such as gorgeous, colorful pure-wool shawls for women, handmade pottery, carpets and stone jewelry.
Exotic food is an attraction too. Pakistani cuisine, a refined blend of South Asian cooking traditions, is known for its richness and flavor.