At 4:30 am on a May morning in Hong Kong, Joseph Tsai gathered with three other executives of Alibaba Group Holding Ltd. With the US stock market just closed, it was time to submit the Chinese e-commerce giant's prospectus for an initial public offering likely to be the largest ever in the United States.
As bottles of champagne awaited, each executive typed a word of the company name on a computer. All four then hit the send button, submitting the 340-page document that officially began the IPO process that will culminate in a few weeks.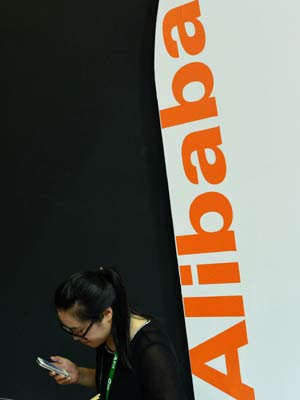 Alibaba's success today is mainly because of its great leadership. If Alibaba were a movie, according to media, Chairman Jack Ma would be the star actor and director, and Joseph Tsai, vice-chairman, would be the executive producer.CHINA DAILY
While Chairman Jack Ma is the visionary founder of Alibaba, Tsai, the vice-chairman, is the guy who stays up until 4:30 am to execute that vision. Yale-educated and a former lawyer at Sullivan & Cromwell LLP, Tsai's job now is to convince investors to buy the stock of a Chinese company that analysts say is worth almost $200 billion, making it the most valuable Internet firm after Google Inc.
"Alibaba wouldn't be where it is today without Joe Tsai," said Porter Erisman, who worked in marketing and communications at Alibaba in the early days and just released a documentary on the company's beginnings. "Joe is the international lens for the whole group."
Born in Taiwan, the 50-year-old Tsai came to the US in 1977 to attend the Lawrenceville School, an elite boarding school in New Jersey, speaking hardly any English. By the time he graduated, he was conversing with no accent, and playing lacrosse.
He went on to play the sport at Yale University, where he stood in stark contrast to other players from middle-class backgrounds, said Jeff Gordon, a teammate from Long Island, New York. That didn't stop Tsai from assimilating easily.
"We all immediately bonded," said Gordon, who's now an executive at Dish Network Corp in Denver. "I knew what hard work he put in on the lacrosse field on a daily basis. Joe always did what he thought was right, and he was a steadying presence for all of us."
Tsai defied conventional jock protocol by wearing a pink triangle on his chest in support of gay rights. When members of the team teased him, he replied that it was just the right thing to do.
Tsai helped transform Alibaba into a global powerhouse, leading negotiations for most of the early funding rounds, including $20 million from SoftBank Corp, and negotiating dozens of acquisitions, averaging two a month just this year. He also courted investors for Alibaba.com's $1.69 billion IPO in Hong Kong in 2007.
Tsai also arranged the more controversial aspects of Alibaba Group's upcoming IPO. He championed a partnership governance model that gives 27 individuals outsized control in nominating a majority of the board.
Tsai will be well rewarded if the IPO is successful. His stake of 3.6 percent could be worth as much as $7.1 billion, based on analyst estimates of the company's value.
A spokesman for Alibaba, Tsai and Ma declined to comment for this piece. The story is based on conversations with people who have direct knowledge of the events who asked not to be named.
Born into a family of prominent lawyers, Tsai graduated from Yale Law School in 1990 and then worked as a tax attorney at Sullivan & Cromwell in New York. After three years, he switched to private equity, seeking a role that allowed him to make decisions, instead of advising on them. He worked for a small, buyout firm in New York and then moved to Hong Kong for Stockholm-based Investor AB.
It was in this role that he first met Ma in 1999 in Hangzhou after being introduced by a friend. Tsai was impressed with Ma's idea to create Alibaba.com, an international import and export marketplace, as well as his charismatic personality.
Tsai quit his $700,000-a-year job at Investor AB and offered to work for nothing for Alibaba. Ma asked that each of Alibaba's 18 co-founders of which Tsai is the only Western- educated member accept a salary of $600 a year.
Tsai served as chief financial officer of Alibaba for more than a decade, before becoming Alibaba's vice-chairman in 2013, overseeing the company's development. He led the deal to repurchase some of Yahoo! Inc's stake in Alibaba through transactions valued at $7.6 billion in 2012.