For stockbrokers in Hong Kong and Shanghai, Saturday is just another day at the office.
Kingston Financial Group Ltd, Guotai Junan International Holdings Ltd, Tebon Securities Co and Haitong Securities Co are among those firms working through the weekend in the first full trial of an exchange link between Asia's biggest stock markets after Japan. Bourse officials are seeking to hammer out any technical glitches before the connect goes live in October.
The tie-up, which allows a net 23.5 billion yuan ($3.8 billion) of daily purchases between the bourses, gives international investors a new route to buy Chinese stocks, while helping Hong Kong bolster its status as a gateway to Chinese mainland markets.
Shares of 19 securities firms from both bourses have climbed an average 10 percent since the plan was announced in April, amid speculation increased commissions will outweigh the costs of participating in the link.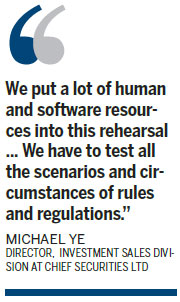 "If you ask me or IT staff and dealers what the biggest difficulty is, it would be working overtime" to test the link, said Jammy Lui, chief operating officer at Kingston Financial. "The Hong Kong-Shanghai Connect is new and the frequency of rehearsals has increased quite a lot recently. Most brokerage houses are busy preparing."
The Hong Kong exchange ran smaller-scale tests last weekend, when brokers placed mock trades to test their computer systems, clearing and settlement. The bourse will simulate a system failure on Sept 13, according to information on its website. The Shanghai Stock Exchange declined to comment.
Connecting markets with different trading rules, regulators, currencies, taxes and holidays have occupied brokers since the link was unveiled by Chinese Premier Li Keqiang on April 10.
"We put a lot of human and software resources into this rehearsal," said Michael Ye, director of the investment sales division at Chief Securities Ltd in Hong Kong. "We have to test all the scenarios and circumstances of rules and regulations."
A total of 96 brokers, which handle 80 percent of the city's trading volume, participated in the connectivity test last weekend, Hong Kong Exchanges & Clearing Ltd said.
"Our team needs to work over three weekends," said Kelvin Shek, head of the information technology department at Guotai Junan International, who plans to arrive at 7 am on Saturday. "We need to have good sleep on Friday night."
China restricts the movement of capital outside its borders, with local investors limited to buying overseas securities via the Qualified Domestic Institutional Investor program. International money managers seeking yuan-denominated A shares need to go through the Qualified Foreign Institutional Investor program.
When the exchange link starts, Chinese institutions and investors with at least 500,000 yuan in their securities account will be able to buy Hong Kong shares using yuan through Chinese mainland brokerages, which will place their orders through Hong Kong's bourse. Overseas institutions and investors can trade shares on the SSE 180 Index and SSE 380 Index, as well as dual-listed stocks, using Hong Kong brokerages.
"The exchange link is a step toward internationalization of our stock market," said Zhang Haidong, an analyst at Tebon Securities in Shanghai. "It will help to attract more funds."
The tie-up may also bolster the earnings prospects of Hong Kong brokerages, 200 of which expressed interest in participating in the exchange as of June. Average daily turnover in the city slid 7.9 percent in the first half from a year earlier, while nine brokerages have stopped trading in 2014, according to data from the stock exchange.
Citic Securities Co, the biggest listed Chinese brokerage, gained 13 percent in Shanghai trading since the link was announced, while Guotai Junan has climbed 27 percent and First Shanghai Investments Ltd more than doubled in Hong Kong. HKEx shares have gained 32 percent, versus an 8.3 percent increase in the Hang Seng Index and a 4.3 percent gain in the Shanghai Composite through Thursday.
"The weekend tests mean staff have to come back to the office and spend more time with colleagues instead of their families," said Eliot Li, director of corporate development, sales and marketing at First Shanghai's financial services unit in Hong Kong. "The whole company will celebrate after the implementation of the program."