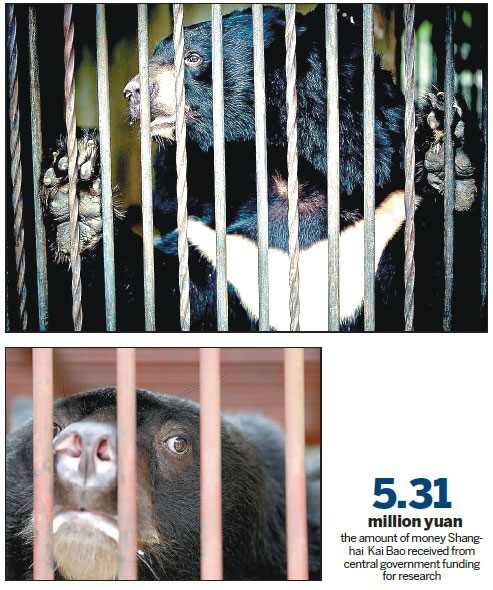 Most farmed bears are kept in small cages that constrain the bears' movement. More than 10,000 bears, including moon bears, sun bears and brown bears, are kept on bile farms in China. Provided to China Daily
The technology for producing artificial bear gall powder has made a great leap in China, with the Ministry of Science and Technology giving national support to the development of this technology by a company in Shanghai.
Shenzhen-listed Shanghai Kai Bao Pharmaceutical Co Ltd received central government funding of more than 5.31 million yuan ($850,100) for research into the key technology of cultivation of in vitro bear gall powder, along with a preclinical study that began in January and will end in December 2016, according to a company statement.
The local government of Shanghai will also grant the company some 6 million yuan. Kai Bao itself will invest 12 million yuan in the research, said the statement.
The company's board of directors wrote in the announcement on July 21 that the work involves transforming poultry bile into a substitute for bear gall powder. The new substance is intended to have the same chemical composition and effect as bear gall powder.
This new technology, based on bioconversion, will help conserve endangered species and provide raw material of stable quality. The company also said the technology means a great deal to the heritage and development of traditional Chinese medicine.
One of Kai Bao's products called Tan Re Qing, an injection used to treat H1N1 influenza, hand-foot-and-mouth disease and a number of lung diseases, is highly dependent on bear gall powder.
The company has been heavily reliant on bear gall powder, with its demand for this raw material exceeding 18 metric tons in 2012. In its prospectus filed in 2009, the company described itself as "a major purchaser of bear gall powder".
Animal Asia Foundation, a Hong Kong-based charity that seeks to end cruelty to animals in Asia, said it supports the research. The foundation considers it is a demonstration project for the entire TCM industry, which is reliant on wild animals and plants.
"The creation and promotion of artificial substitutes will combine the purposes of sustaining the lives of wild animals and further developing TCM.
"Meanwhile, the conflict between using wild animals and public ethics will end. We believe that the research and development into artificial substitutes will provide a new, balanced and sustainable path for wild animals and TCM," said the foundation in a statement sent to China Daily.
Gao Yimin, an expert on TCM at the Capital Medicine University, is a strong advocate of artificial bear gall powder technology. Indeed, a similar experiment was conducted clinically 20 years ago, and it was quite successful. But for various reasons, the technology was not widely adopted and applied.
"It is finally good to see that the technology for artificial bear gall powder has won national support. It represents huge progress in terms of government policy," said Gao.
Statistics on the China Industrial Research Report website show that China produced a total of 28.5 tons of bear gall powder in 2011. At present, there are 33 companies that have been given production approval from the China Food and Drug Administration for bear gall powder, more than half of which are based in the northeastern part of the country.
According to the International Union for Conservation of Nature and Natural Resources, there are about 12,000 to 18,000 wild black bears in China.