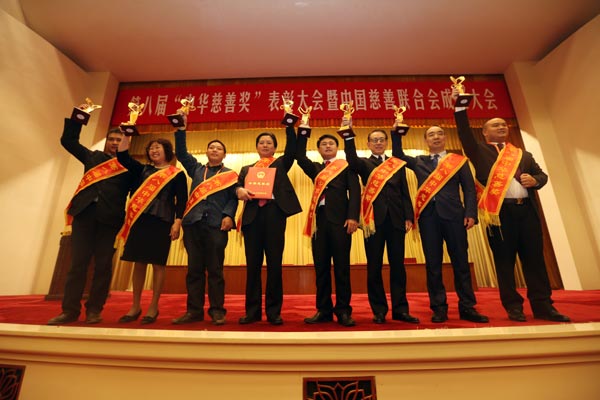 Winners of the 8th China Charity Awards last year in Beijing celebrate the recognition of their contribution to charities. Provided to China Daily
New rules cover judging, number of prizes and switching event to every two years
A senior civil affairs official recently announced changes to the rules and selection process of the China Charity Award.
The moves follow a media report that businesswoman Ding Shumiao, who won an award for her contribution to philanthropic causes in 2009, was charged with bribing Liu Zhijun, the former minister of railways, to accumulate her huge wealth.
Ding was involved in bidding for dozens of railway projects through railway ministry staff members and engaged in illegal business operations valued at 178.8 billion yuan ($29.05 billion).
The 59-year-old billionaire from Shanxi province donated about 114 million yuan for disaster-relief work after the Wenchuan earthquake in 2008. She also gave 150 million yuan in 2009 to set up a fund, run by the China Women Development Foundation, for improving the well-being of poverty-stricken mothers in less-developed western regions of China.
Winners found to have engaged in fraudulent behavior or broken the law will be stripped of their prizes and banned from future nomination for six years, said Zhan Chengfu, director of the division of social welfare and charity at the Ministry of Civil Affairs, at a recent Beijing press conference.
Zhan said changes to the selection process also include lists of nominees being made public online and the numbers of votes each candidate receives from netizens being important reference for the judging panel.
Members of the judging panel will be chosen randomly and anyone who has ties with a nominee must abstain from voting for them.
In future, the China Charity Award will be held once every two years and the number of winners will be reduced from 100 to 50.
"Changes to the rules will make the prize more valuable," he said.
More than 260 individuals and some 360 companies have received honors since the ministry launched the award in 2005.
Deng Guosheng, who specializes in philanthropic studies as director of Tsinghua University's NGO Research Center, said the China Charity Award has played a positive role in motivating more entrepreneurs and organizations to participate in charities and promoting a philanthropic culture in society.
Deng, a former member of the judging panel, urged the organizers to do more to make the nomination and selection process fairer.
"As criteria for the list of candidates were often vague, members of the judging panel voted in line with their feelings or simply favored those candidates who donated the largest amounts, ignoring factors such as the social effect of the candidates' donation and whether the donors sought publicity rather than helping those in need," he said.
Deng also suggests the organizers give judges the opportunity to sit down together and discuss their choices instead of voting independently online.
Song Zonghe, deputy editor-in-chief of the China Social Welfare magazine, believes that the organizers should evaluate each candidate's contribution in philanthropy in a more holistic way.
"The amount of donation should not be the only criterion," he said. "Other 'soft indices' should be considered such as the social influence, public education and promotion of philanthropic culture that the candidates made through their charitable donations or projects."