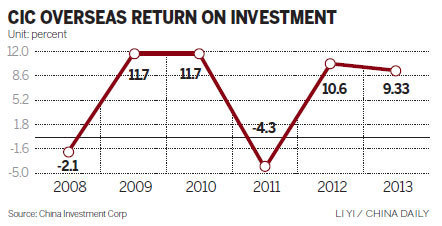 A robust global equity market in 2013 led to smooth sailing for China's sovereign wealth fund China Investment Corp, but the $653 billion fund said it expects headwinds this year.
CIC's net profits in 2013 grew 11.8 percent to reach $86.9 billion, the fund said in its annual report released on Friday. Returns on its overseas investment in 2013 fell to 9.3 percent from 10.6 percent in 2012.
CIC was given the task in 2007 to earn higher returns for China's then-$1.4 trillion foreign exchange reserves, which now stand at nearly $4 trillion. Up to 2013, its net cumulative annualized return reached 5.7 percent.
"We can claim with certainty that our performance is at the upper-middle level among our peers," said Li Fangyu, managing director of CIC's department of public relations.
She attributed the good performance last year to the upsurge in developed economies' stock markets, and the fund's changing investment strategy.
CIC last year increased its holding of equities while cutting exposure to government bonds. It also lowered its exposure to absolute return (hedge funds, risk parity and multi-asset funds) and long-term investment.
In a sign of a more aggressive investment strategy, it raised its investment in public equity to 40.4 percent of its total overseas investment, up from 32 percent in 2012. Meanwhile, the allocation to fixed-income securities (treasury bonds and corporate bonds) was lowered to 17 percent from 19.1 percent in 2012.
CIC last year reduced its holdings in, or withdrew from, more than 10 investments, which boosted this year's financial performance.
In its open market investment, US equity accounted for 46.1 percent, the largest exposure, though it was lower than the 49.2 percent share in 2012. CIC boosted its exposure to non-US advanced economies' equities by 9 percentage points to 36.8 percent.
In equity investment, financial companies accounted for 22.9 percent, while consumer discretionary and information technology companies took more than 10 percent, respectively.
CIC also disclosed that it has earned money from its investment in Blackstone Group LP.
The high-profile investment has been under close scrutiny as CIC lost heavily soon after investment in 2007, when Blackstone's share price plunged amid the global financial crisis.
CIC said it earned a handsome return through a dividend and share price surge. It even recorded more profits from cooperation with Blackstone in other investments.
However, the company is not very optimistic about this year's outlook.
The previous round of global stock market rallies has made it more difficult for CIC to buy in at a low price. And it was becoming harder to find premier investment targets as loose liquidity means fiercer competition, Li said.
The rising protectionism in many countries barred CIC from many promising investments. Liu cited Canada's harsher scrutiny over foreign access to its oil sands industry as an example.
CIC has not announced any deals of note in the past year as it underwent a leadership reshuffle. Its chairman, Ding Xuedong, was appointed in July last year.
The new chairman has said on several occasions CIC is interested in the agriculture, infrastructure, real estate and hi-tech sectors.