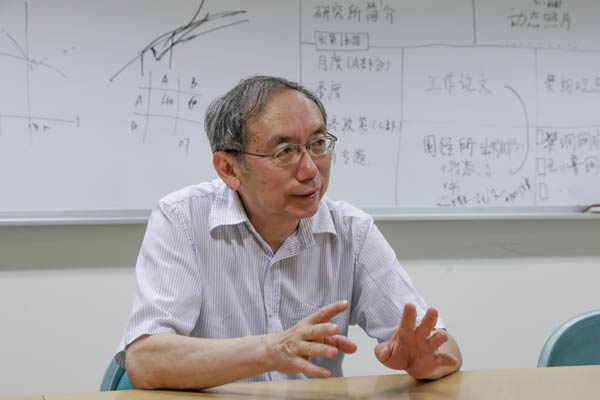 Wang Xiaolu believes there are huge risks for the Chinese economy if it fails to rebalance. HUA YU/CHINA DAILY
Stimulus measures have worsened existing imbalances, expert says
Wang Xiaolu believes the latest economic data provides evidence the Chinese economy is rebalancing.
The 63-year-old is deputy director of the National Economic Research Institute, a leading independent think tank and one of China's most widely respected economists.
The National Bureau of Statistics data, published on July 16, showed that services, and not manufacturing, continued to be the major driver of growth for the second quarter in a row. It made up 48.9 percent of additional GDP, compared with the secondary sector's 47.1 percent.
"I think you can see some initial rebalancing of the economy over the past couple of years. No one quarter would define rebalancing since it is very much a long-term, rather than short-term process," he says.
Wang was speaking in the offices of the NERI in the Xicheng district of Beijing, where he has worked for the past 16 years. Various seemingly incomprehensible calculations are scrawled on the white board behind him.
He believes there is some initial evidence of the government's attempts to rebalance the economy working but implementation of reforms will still present a challenge.
Consumption as a proportion of GDP has to rise from its 2013 level of 49.8 percent to at least 60 percent for significant rebalancing to have occurred, according to Wang, and that will take at least 10 years and probably longer.
"I expect it will gradually happen over the next 10 years but it will depend on the success of institutional reforms as to how the patterns of income distribution will be readjusted," he says.
Wang, who twice has won the Sun Yefang Economics Prize (named after the Chinese economist who was one of the first to advocate market reforms), is regarded as a leading expert on consumption and income distribution.
His book, Strategic Thinking on National Income Distribution, won the most influential book award in the CITIC press awards in 2013.
Wang believes there are huge risks for the Chinese economy if it fails to rebalance.
"The continuation of the current situation would result in a very bad situation for China because current levels of economic growth would not be sustained. It would lead to many problems such as a lack of funding for public services, debt issues and also higher levels of unemployment."