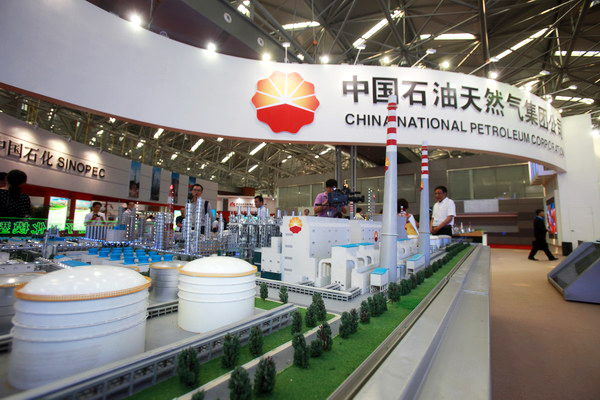 China National Petroleum Corp's booth at a trade show in Tianjin in September, 2013. [Photo / China Daily]
A joint oil refinery project, between China and Venezuela, in the coastal county of Huilai, Guangdong province, is scheduled to come into operation by 2018, sources with the local government said.
The refinery project, a joint investment by China National Petroleum Corp and the Petroleos de Venezuela SA, has an annual processing capacity of 20 million metric tons, or 400,000 barrels a day, making it one of the country's biggest integrated refining complexes.
"The project will help build a world-class refinery industrial chain in Jieyang and secure fresh long-term crude supply for processing into much-needed fuels to power the local economy," said Chen Lvping, Party chief of Jieyang city, eastern Guangdong.
Construction started on the project in 2012 with initial investment of up to 58.6 billion yuan ($9.45 billion).
The China-Venezuelan project has seen a number of power, refining, chemical and LNG projects developed in a petrochemical industrial zone in Huilai of Jieyang, said Chen.