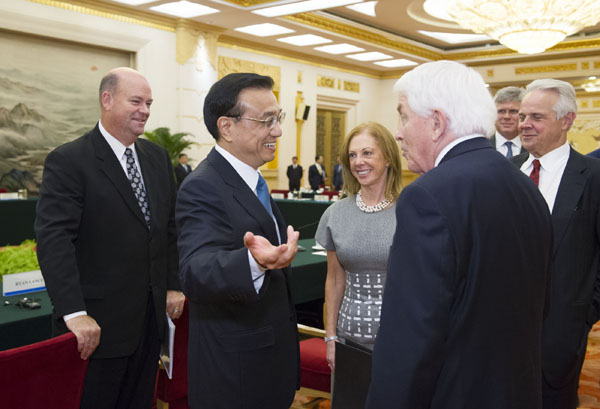 Chinese Premier Li Keqiang (2nd L) meets with a delegation of US business leaders and former senior officials, who are here for the sixth round of dialogues between China-US business leaders and former senior officials, in Beijing, capital of China, July 22, 2014. [Photo/Xinhua]
BEIJING - China will join in and contribute to the construction of a new global trade system, said Premier Li Keqiang on Tuesday.
Li also called on the United States to be more open and to create more favorable conditions for the two countries' deeper cooperation, while meeting a delegation of US business leaders and former senior officials.
The delegation, headed by President of the US Chamber of Commerce Thomas Donohue, included former National Security Advisor Sandy Berger,former US Trade Representative Charlene Barshefsky, and a group of senior business executives.
Li said a good China-US relationship is conducive to both countries, and will help them to realize more global interests. The two countries should respect each other, strengthen mutual trust, deepen cooperation and control disputes.
He called on business circles and think tanks of the two countries to have closer communication to promote a stable and sound development of the China-US cooperation.
Donohue and several delegation members said deeper cooperation between the United States and China will benefit the two countries and the global economic growth. The US business circles will continue to promote bilateral trade and investment cooperation and the development of US-China ties.
Li also pledged that China will be more open and improve the market environment to give fair competition for companies from both home and abroad.
Li also answered questions from US business leaders about China's reform and opening up, and China-US trade and financial cooperation.