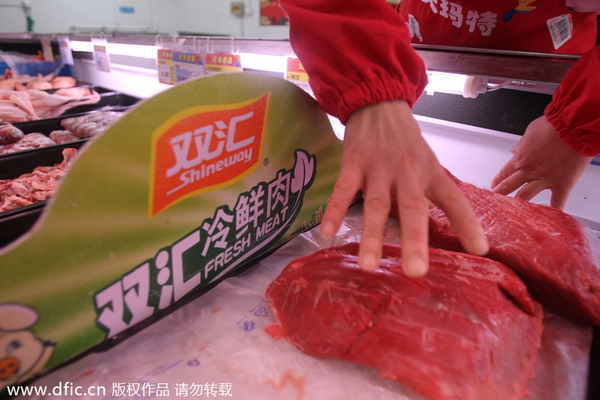 A worker arranges fresh meat at a supermarket in Nantong, Jiangsu province. WH Group Ltd is planning an IPO in Hong Kong to repay part of the debt for last year's $7.1 billion purchase of US pork producer Smithfield International. [Photo / IC]
WH Group Ltd is set to raise $2.05 billion in a scaled-down Hong Kong initial public offering, a person with direct knowledge of the transaction said on Tuesday.
It will be the Chinese pork producer's second attempt to list this year after investors rebuffed a pricier deal.
WH Group, the world's biggest pork producer, will sell shares at a fixed price of HK$6.20 (80 cents) each on Wednesday, valuing the company at 11.5 times estimated 2014 earnings, said the person who declined to be identified because the matter is not yet public.
A spokesman for WH Group in Hong Kong declined to comment.
The revised share price is lower than the HK$8 to HK$11.25 range WH Group initially proposed for its earlier attempt at a Hong Kong IPO. The company pulled that offer, which it had hoped would raise up to $5.3 billion, in April after investors balked at the high valuation.
The IPO also floundered because the 29 banks - a record number - hired to manage the offer also sent confusing signals to institutional investors, while negative publicity over executive compensation raised corporate governance issues.
WH Group is seeking funds to repay part of the debt it assumed pay for last year's $7.1 billion purchase of the United States-based pork producer Smithfield International Inc.
WH Group, whose products include Smithfield ham and Farmland bacon in the US, has named BOC International Ltd and Morgan Stanley as the two IPO sponsors, down from an initial list of seven, the source said.
The new IPO will consist only of primary shares, meaning existing shareholders including CDH Investments, New Horizon, Goldman Sachs and Temasek Holdings Pte Ltd won't sell their stakes in the company, the source said.