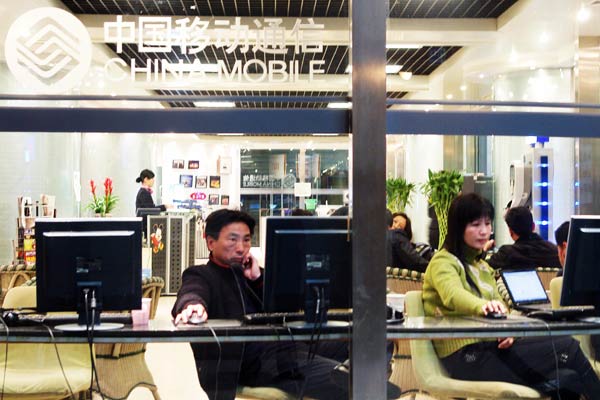 Members surf the Internet in a VIP lounge run by China Mobile Ltd at an airport in Zhengzhou, Henan province. The telecom carrier is closing its VIP rooms at airports across the country to cut operation costs. SHA LANG/CHINA DAILY
Airport lounges are part of major carriers' cost-cutting strategies
China Mobile Ltd said on Monday it is removing its premium customer lounges at the nation's airports in a bid to cut back on operating expenses.
The world's No 1 telecom carrier by subscriber numbers also plans to close down a majority of its customer clubs, a type of value-added service the carrier introduced years ago to lure new subscribers.
A senior executive from China Mobile said closing the airport VIP lounges is only one part of the company's move to reduce operating costs after the watchdog of State-owned assets ordered the country's Big Three telecom carriers-China Mobile, China United Network Communications Group Co Ltd and China Telecom Corp Ltd-to spend less on daily operations and marketing.
Lu Wenchang, deputy manager of China Mobile's marketing department, told China Daily that although the expense of running the VIP lounges accounts for less than 1 percent of the telecom giant's total operating cost, the move marks the start of a series of cost-reducing efforts.
"Our service at the VIP rooms is no better than those provided by the airlines. It will benefit everyone if we leave the task to the companies who know how to do it well," said Lu.
He added the company is also cutting as many as 1,400 customer clubs, including film fan gatherings and parenting skill exchange platforms run by local branches.
"Only three to five national customer clubs will be preserved by next year," Lu said, adding that the clubs that will be retained provide such services such as credit and financial assistance.