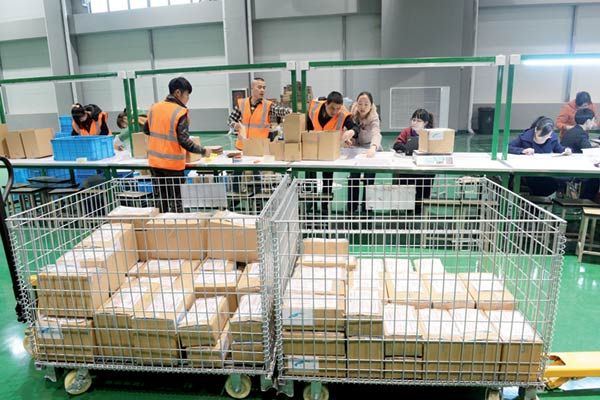 Workers pack goods for delivery in a warehouse in Ningbo free trade zone. CHINA DAILY
Nothing but the best will do for Yao Mi's six-month-old son. For Yao, 27, of Hangzhou, Zhejiang province, that means catering to little Mantou's every need, including buying baby formula and nappies overseas.
Until recently the catch has been that because of the time needed for dispatch, transport and customs clearance, Yao and her son have had to wait for more than a month to receive goods ordered.
But this year, Yao discovered a new method of buying that can save her waiting time and money.
"It now takes only three days to receive the nappies, and it's 15 percent cheaper," she says.
One brand of nappies made in Japan sells at 170 yuan ($27) for 82 nappies through its official website, and until a few months ago Yao was paying just 140 yuan for them; through the new channel she pays 120 yuan.
The channel Yao uses is an e-commerce website that Ningbo free trade zone opened in November. Through it, Chinese residents can buy goods from overseas that are subject to relatively low taxes, that cost less to deliver and are delivered more quickly, and that include guaranteed quality and after-sales service.
The website, kjb2c.com, was set up following policy dispensations the central government granted Ningbo to operate the free trade zone. Companies registered in the zone can import goods and store them in a dedicated warehouse there without their having to go through customs. The goods are sold through the website.
Normally, imported goods are subject to import duty of at least 10 percent and value-added tax of 17 percent. Most imported goods sold through the website will only be subject to a personal baggage and postal tax of 10 percent, and goods that cost 500 yuan or less are allowed in duty free.
Since goods for which orders have been successfully placed will be in the warehouse in Ningbo, it takes only two to three days for customers anywhere on the Chinese mainland and in Hong Kong and Macao to receive the goods they order. If customers encounter quality issues, refunds can be granted within 30 days after purchase.
Chinese registered with the website who have produced identification, no matter where they are, can buy goods.
To prevent illicit purchases, if a person has bought an item that exceeds a daily limit, the customs office will automatically be alerted, and it will then begin investigating.