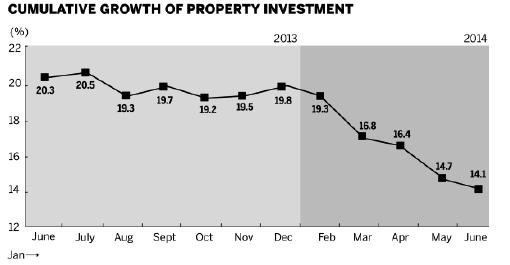 Property investment growth slowed during the first six months of the year in China.
The National Bureau of Statistics said on Wednesday that real estate investment during the first six months stood at 4.2 trillion yuan ($677.2 billion), a 14.1 percent increase over the same period last year, but down from the 14.7 percent growth level achieved during the first five months.
Residential property investments, which accounted for 68.3 percent of the total sectoral investment, rose 13.7 percent to 2.87 trillion yuan compared with the same period a year ago. However, the figures declined from the 14.6 percent level achieved in the first five months.
Revenue from property sales dropped 6.7 percent during the period. Meanwhile, property sales measured in terms of floor space fell by 6 percent in the first six months from a year earlier, with residential property sales down by 7.8 percent and office sales by 2.8 percent. New property construction fell 16.4 percent in the first six months from a year earlier, the fifth consecutive period of decline.
Sheng Laiyun, a spokesman for the NBS, said that the decline in floor space and sales volume was anticipated due to the strong base in 2013. He added that the continued fall is also a result of the adjustments in the real estate market. "Though the cooling housing market is casting shadows on the broader economy in the short term, it will benefit the real estate market and the economy in the long run," Sheng said.
Though the housing market plays a major role in the Chinese economy, the residential construction boom is considered a major economic risk.
Rising inventories in second- and third-tier cities have prompted several local governments, such as Jinan, the capital of Shandong province, and Hohhot, capital of Inner Mongolia, to end all restrictions on home purchases. The policy relaxation will, however, do little to boost investment in the short-term, as it has crimped demand in the past.
Ye Jiancheng, managing director of Investment & Advisory Services at real estate consulting firm DTZ China, said the property investment market is shifting from foreign capital-led to a market dominated by domestic capital. Ye estimated that more capital will flow into mature property projects in big cities. Investors will focus on real estate projects that can generate stable revenue in the long term, rather than projects that produce rapid asset appreciation.
Reuters contributed to this story.