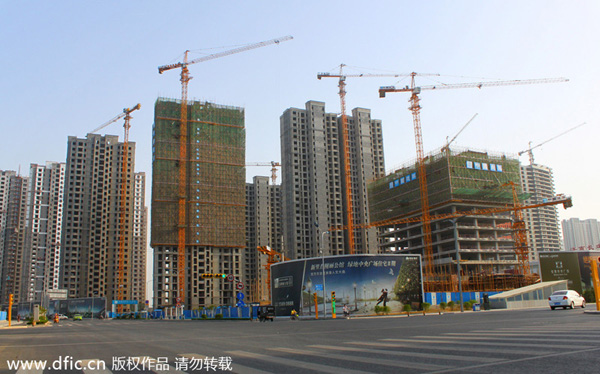 Photo taken on May 20, 2014, shows a project still under construction in Jinan, capital of Shandong province. [Photo/IC]
The eastern Chinese city of Jinan on Thursday became the latest region to lift home purchase restrictions, local media reported on Wednesday.
The change extends to both locals and outsiders, and marks the definitive end to the policy that has limited home purchases in the Jinan real estate market for over three years, according to Qilu evening newspaper
Locals and outsiders can now purchase properties in the provincial capital of Shandong regardless of how many homes they already own.
As part of the policy, locals with two homes or more, outsiders with one home or more, and those who could not provide proof of income tax or social security payment were prevented from buying homes in the city.
Earlier, Jinan City Construction Committee had announced on July 3 that it was investigating possible adjustments to the city's restrictive home purchasing policy in order to promote the healthy and steady development of Jinan's real estate market.
Over the past couple of months, more than 10 cities nationwide have lifted or eased bans on ownership of more than one home, imposed in early 2011 to cool the market. At that time, more than 40 cities made use of the limits along with other measures, including higher mortgage rates and bigger downpayments on second homes. Three years ago, high home prices were among the top complaints of urban residents.
Xu Chuanming, marketing director of Hopefluent Group Holdings Ltd (Shandong), said a cooling real estate market hurts economic growth and fiscal revenue.
"It's quite natural for local authorities to lift the limits to help the property market," said Xu.
The real estate sector has been a major driver of growth over the past decade. Revenues from land sales are a major source of income for local governments, accounting for about one third of total fiscal revenue. In some regions, the percentage can be above 50 percent.
This revenue slumped 15 percent in the second quarter of the year. In cities such as Beihai, Kunming, Hohhot and Ningbo, the decline is more than 50 percent.
Jinan exemplifies of the current housing market. Sales in terms of floor space in Jinan declined more than 30 percent in the January-May period and prices dipped 0.4 percent in May, the first month on month decline since June 2012. Nationwide, housing sales declined 9.2 percent year on year in the first five months, and half of 70 major cities reported month on month declines.
"Poor sales mean developers have taken a cautious approach to land purchases and falling revenue has driven governments to lift the restrictions," said You Fang, an analyst with WorldUnion Properties.
In the long run, China should continue to curb speculation in the housing market to let the economy avoid excessive dependence on the real estate sector, said Li Tiegang, head of the property research center at Shandong University.
Although many cities reported month on month declines in housing prices, those declines are small, said Li. "The authorities should tolerate some fluctuations in prices. They should not adjust policies for small ups and downs," he said.
Once the economy picks up, house prices could rebound, which will do no good for the long-term health of the property market, said Li.
After the scrapping of purchase limits, the government should impose a property tax in more regions to curb speculation and build more affordable housing, he said.
Xinhua contributed to this stroy.