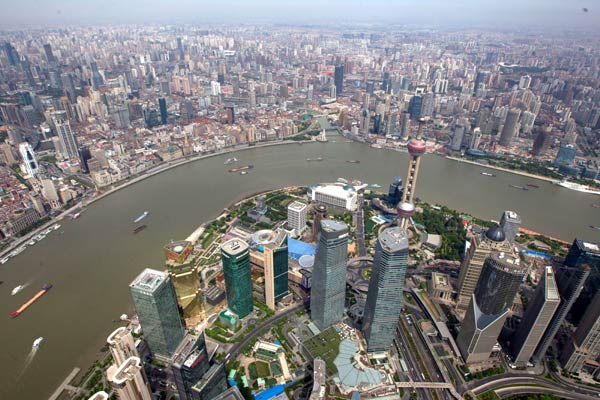 A bird's-eye view of Shanghai. The city has tapped East China Normal University to set its course for the next 30 years. GAO ERQIANG/CHINA DAILY
Planning city's future also means reforming its economy, energy as well as politics
If Shanghai is to become an important component of the global economy, its government should better serve the city's people and businesses.
The city designated East China Normal University to study the building of Shanghai into a "global center city" over the next 30 years. Shanghai rejected all other bidders because of their "irrelevance".
Zeng Gang, a city planner and the lead researcher on the project, said the project will be unlike any he worked on before. "I must envision, with my team, how Shanghai will look like in 30 years and suggest to the government how to get there," Zeng said.
"This project is a big challenge because there are too many uncertainties about technology, the economy, energy resources and geopolitics, all of which will influence Shanghai's future."
Shanghai called for bids for 70 key research projects on the city's future on April 1 and received 281 bids in the following 20 days.
Each of the 70 projects is being vetted, a process that can take a year.
The government wants the city to become a management center, operations center, innovation center and service center to the world.
The research project on Shanghai's global city development strategy, which the university is handling, should tell the city government how to build Shanghai into a global city like New York, London or Tokyo.
The government has imposed requirements on the projects, which "must combine the needs of national development strategy, regional integration of the Yangtze River Delta and Shanghai's transformation".
That explains why it is difficult for bidders, research institutes and agencies from around the world to win a bid: Few bidders can handle such a multiplicity of demands, which require coordination between the central government and Shanghai government as well as compromises among the 14 city-level governments in five provincial regions of the Yangtze River Delta.
Zeng's team has previously cooperated with Shanghai in the fields of city planning and construction. So it was no accident that the city turned to Zeng when no bidder could meet all of the requirements.
The main task is to improve Shanghai's ability to allocate global resources, including production materials, prices and innovations, noted Quan Heng, an economist with the Shanghai Academy of Social Sciences. None of this is easy.