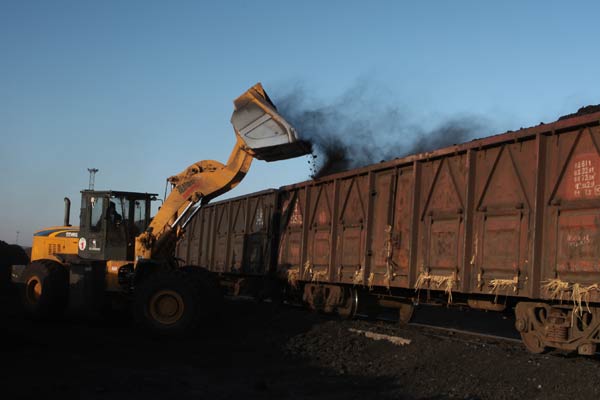 Coal is loaded for railway transportation in Tongliao, Inner Mongolia autonomous region. Coal miners in the region no longer need local government approval for M&A deals. [Photo/Xinhua]
China's top coal-producing region Inner Mongolia said on Thursday that coal miners no longer need local government approval for corporate transfers or for merger and acquisition deals.
The policy, which took effect on Tuesday, will allow local coal miners to follow the rules of a free market, according to authorities from the region.
Coal miners are being encouraged to restructure their businesses and get involved in upstream and downstream industries including electric power, chemicals and building materials.
Resource-rich Inner Mongolia had to relax many policies since last year to boost its coal
mini
ng sector. Major producers of the fuel in the region, which is far from being China's most dynamic, have been hit hardest by high transportation costs.
The low calorific content of the region's coal has also made it less competitive.
As of April 30, one-third of the mines in the region, most of which were small, had shut down or suspended production, according to the Inner Mongolia Coal Mine Safety Bureau.
The province's coal output slid nearly 10 percent year-on-year to 302.74 million metric tons during the first four months, official data show.
Stimulus measures that range from cutting administrative fees and transport charges for local miners to increasing financial support for those companies and lowering borrowing costs were launched to help revive the sector.
Media reports said levies for coal were reduced by 4 yuan (65 cents) to 20 yuan a ton last year. Environmental fees were also suspended and some rail charges eliminated.
The eased rules are expected to strengthen the competitiveness of companies with major mines in the area such as Inner Mongolia Yitai Coal Group Co Ltd, Shandong Energy Group Co and Shenhua Group Corp Ltd, experts said.
But they added that sluggish demand from power plants, rising stockpiles and fierce competition from cheaper imported coal have pushed coal prices to drop further this year.
In June, the price of high-calorie coal dropped 17 percent year-on-year to 220 yuan per ton, and coking coal fell to 325 yuan per ton, a drop of 18.8 percent year-on-year, according to the bureau.