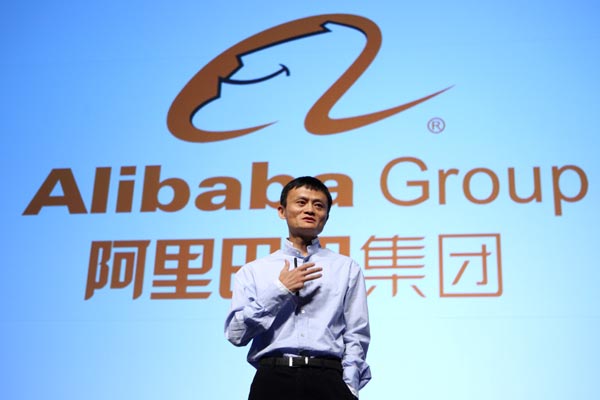 Jack Ma, chairman of Alibaba Group Holding Ltd, speaks at a news conference in Japan. The e-commerce giant has been on a spending spree ahead of its IPO in the United States. Provided to China Daily
E-commerce firm steps up buying spree ahead of US listing with UCWeb deal
Alibaba Group Holding Ltd said on Wednesday that it will buy all the remaining shares of mobile browser company UCWeb Inc in China's biggest Internet deal, as the Hangzhou-based e-commerce giant is seen stepping up its spending spree ahead of its highly anticipated initial public offering in the United States.
The deal, the latest among Alibaba's series of investments totaling $4.8 billion over the past six months, marks the company's further push into the mobile Internet sector.
Alibaba Group and UCWeb said in a joint statement that they have decided to set up the UCWeb Mobile Business Group to deal with businesses like Internet browsers, search services, location-based services, mobile gaming platforms, mobile application distribution and mobile literature services.
Yu Yongfu, chairman and chief executive officer of UCWeb, will head the new business group and also be part of Alibaba Group's strategy committee, the top strategy-making team of the e-commerce giant, the statement said.
"The integration will create the biggest merger in the history of China's Internet," Alibaba said on its official micro blog. Alibaba already holds a 66 percent stake in UCWeb, according to its filing to the US Securities and Exchange Commission in May.
Yu of UCWeb said in an interview in Beijing on Wednesday that the deal will mainly be done using Alibaba's stock with a smaller part as cash.
"Since Alibaba hasn't been listed in the US yet, there are no specific numbers on the investment. But the deal is estimated to be more than twice that of Baidu's $1.9 billion acquisition of app store 91 Wireless last year," he said.