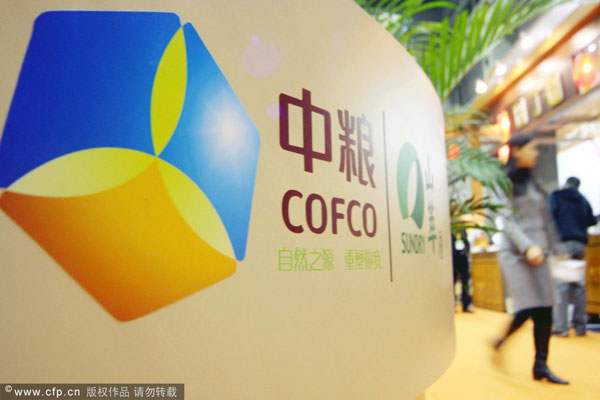 A China National Cereals, Oils and Foodstuffs Corporation (COFCO) booth at the Beijing Green and Organic Food Expo, Nov 27, 2008. [Photo/CFP]
COFCO Corp, China's largest grain trader, is raising a $3.2 billion syndicated loan to back its acquistion of Noble Group's agribusiness arm and repay a shareholder loan, banking sources said on Wednesday.
The loan for State-owned COFCO is the biggest offshore loan for a Chinese company this year, and comes as offshore borrowing by Chinese mainland firms is slowing as Hong Kong's regulators attempt to curtail lending.
Noble said in April that COFCO would pay $1.5 billion to buy a 51 percent stake in Noble Group Ltd's agribusiness which will link COFCO's grain processing and distrubution business in China with Noble's grain sourcing and trading arms in a joint venture.
$1 billion of the loan will be used for the acquisition and the remaining $2.2 billion will repay the shareholder loan, banking sources said.
The deal is also one of the most tightly-priced offshore loans for a Chinese company this year.
COFCO is asking for an interest margin of 100 basis points (bps) over Libor on the $1 billion, one-year tranche and 135bps on the $2.2 billion, five-year tranche.
That price has only been bettered by a $2 billion, one-year loan for Aa3-rated, State-owned oil and gas firm CNOOC, which paid 75bps in February.
COFCO's new one-year tranche has no fee and the five-year tranche offers fees that give all-in pricing of below 150bps.
At least eight relationship banks have been invited to join the deal and can choose to join only the five-year tranche or both tranches.