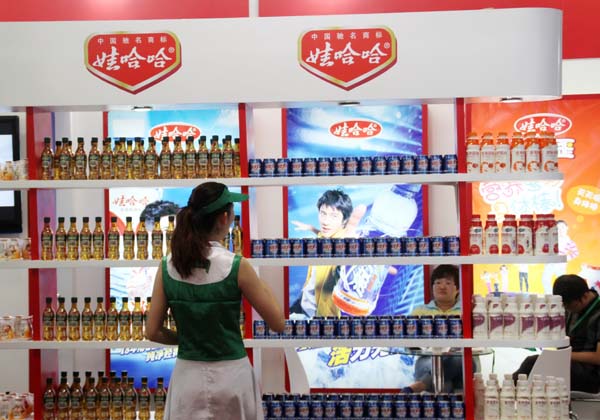 Hangzhou Wahaha Group products on display at a food expo in Beijing in June,2013.[Photo/China Daily]
Hangzhou Wahaha Group Co Ltd, one of China's largest beverage producers, will complete the fifth phase of its production expansion in Guiyang by the end of June.
The beverage company has invested 68 million yuan in the city since building its first production line in 2003.
The company has laid down nine lines in the city and generated 4.2 billion yuan in output value by the end of 2013. The new line is expected to add another 600 million yuan in sales when it starts operation, said the company.
"The favorable investment environment in Baiyun District, where the factory is located, is the main reason for us to continue our expansion here," said Huang Xueqiang, general manager of Wahaha's subsidiary in Guiyang.
"After the fifth project, we will prepare another feasibility analysis report for extension with additional investment in Baiyun district," Huang said.
Wahaha goes against the grain with liquor venture
'Consistency vital in food and beverage'
Wahaha Group to boost shopping center business