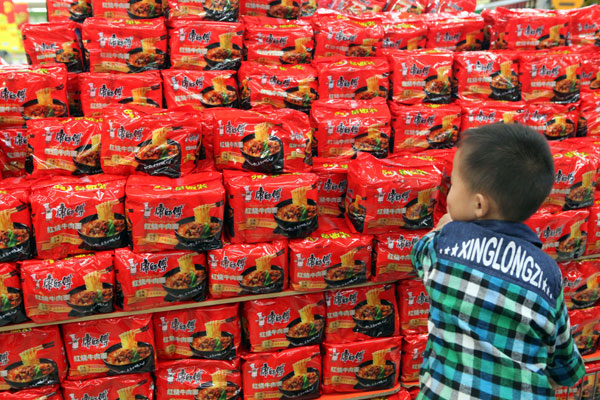 Master Kong brand instant noodles are on display at a supermarket in Lianyungang, Jiangsu province. The brand was the most chosen one in China, according to the Kantar Worldpanel's Brand Footprint rankings. Si Wei / China Daily
Ranking shows that most frequently purchased products are home grown
Domestic brands have penetrated their home market more fully than foreign competitors but have done less well overseas, a study found.
The top 10 most chosen brands in China are all Chinese, and foreign brands rank below 20th place, Kantar Worldpanel's Brand Footprint ranking discovered.
The report measures the brands that are bought most often in 35 countries and across the food, beverage, health and beauty, and home care sectors.
Jason Yu, general manager of Kantar Worldpanel China, said brand portfolios are worked differently by Chinese and international companies. Domestic names have their own strong parental brand, covering all product lines and sectors, creating strong brand penetration and wide coverage.
International retailers prefer to adopt a multi-brand strategy and avoid one brand representing everything.
Tingyi (Cayman Islands) Holding Corp specializes in beverages and instant foods such as noodles in China. Its Master Kong products had the largest shopper base, according to the report, bought by more than 91 percent of households. It is also the brand purchased most often, nine times per year on average. It was chosen more than 1.3 billion times in the past year, representing 5.6 percent growth, according to the report.
Dairy giants Inner Mongolia Yili Industrial Group Co Ltd and China Mengniu Dairy Co Ltd ranked No 2 and No 3. They were followed by food and beverage brand Want Want China Holdings Ltd and beverage leader Hangzhou Wahaha Import and Export Co Ltd, according to the report.
Yu said the firms ranked are masters at making their brands matter to consumers. Their responsiveness to fast-changing consumer trends across China is critical to their success.
They grow by meeting necessities while adding significance and a little luxury.
Despite the booming trend of Chinese brands on the domestic market, there is little presence of them globally, suggesting their limited international appeal.