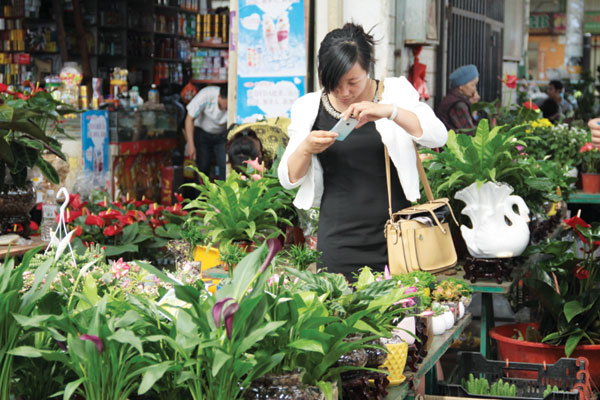 Yunnan is one of the three best places to grow flowers because of its climate, which keeps costs low and ensures year-round yields. Photos by Hu Yongqi / China Daily
As night falls, a stream of trucks arrives at the Dounan flower market. Workers use flashlights as they unload roses, lilies and carnations.
Sellers and buyers, some brandishing flashlights, some with hands buried in cloth bags, haggle on prices. Once a deal is reached, flowers are loaded onto a closed truck bound for the airport, and they end up in a shop somewhere in China.
This scene plays out every night of the week in the small town of Dounan in Kunming, capital of Yunnan province, well-known in China for its important role in the flower trade. Between 500 and 800 tons of fresh flowers are sold in the town each day, 90 percent at this traditional market. Seventy percent of commercially sold flowers in China come from Yunnan, and many of those will have come from Kunming.
In 2012, 5.1 billion flowers from Dounan were sold at home and abroad. About 800,000 farmers in Yunnan grew flowers on 70,000 hectares of land last year, and the industry employed 3.5 million people. Flowers worth 34 billion yuan ($5.4 billion) were produced last year, 27 percent more than the year before, the Yunnan Provincial Office of Flowers says.
Millions of those flowers are for export, including to nearby countries such as Russia, South Korea, Japan, and countries in southeast and central Asia. Flowers sold in Dounan went to more than 80 Chinese cities and to 46 countries and regions last year, bringing in $196 million, the office says.
On the advice of experts, the government of Kunming is in the process of setting up a modern trading center that includes a new method of auctioning flowers, which is eventually likely to replace the old market system and to establish more order with pricing.
Kunming is often called "Spring City" because of year-round temperate weather. Altitudes in Dounan, in the city's Chenggong district, range from 1,800 to 2,000 meters, and the average temperature is 15.1 C. The annual average rainfall of about 1,000 millimeters adds to its suitability for growing flowers.
Dounan's flower trade took root 30 years ago, when the first group of flower farmers in Dounan started to trade their products in a makeshift market, covered with plastic sheets held up by bamboo pillars. In the early stages of the reform and opening-up policy, in the late 1970s, farmers' profit from flowers was almost double that for crops such as rice and corn.
Flourishing incomes drew other farmers to the business, and soon dozens of motorized tricycles, once the preserve of farms, were buzzing around the streets carrying their wares.