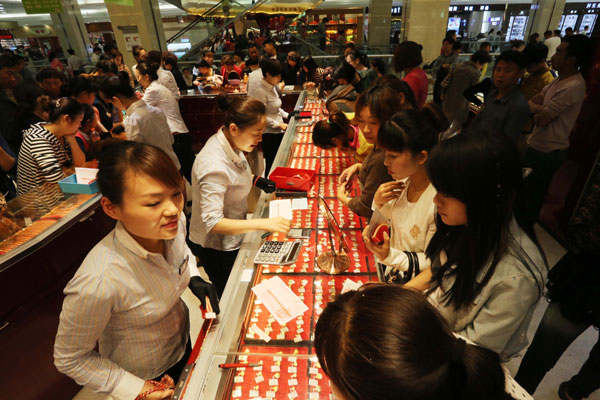 Customers choose gold jewelry at a shop in Xuchang, Henan province, during the May Day holiday. China's gold jewelry consumption jumped 30.2 percent year-on-year in the first quarter of this year to 232.53 metric tons. GENG GUOQING/CHINA DAILY
China's gold consumption in the first quarter of 2014 eased significantly from last year mainly because of reduced demand for giftrelated gold bars, experts said on Tuesday.
In the January-March period, gold consumption was 322.99 metric tons, rising 2.45 tons or 0.76 percent year-on-year. Gold jewelry purchases jumped 30.2 percent to 232.53 tons, while gold bar consumption slumped 43.56 percent to 67.95 tons, the China Gold Association said.
Albert Cheng, Far East man
aging
director of the World Gold Council, told China Daily that the "slump of gold bar demand was caused by the decline of gifts" as the government tightened rules on giftgiving by officials.
"On the whole, China's gold consumption in the first quarter maintained growth, which is very satisfactory, as 2013 was an unusual year for the gold markets in China and the world. China's gold demand rose very strongly last year, and demand this year will noticeably slow down," Cheng said.
He added that China's demand for gold will maintain a growth rate of 20 to 25 percent in the next four years.
"Investment is a very important factor in China's gold demand. The emerging middle class and the ongoing urbanization are the most crucial force in driving up the gold demand in China. The price, which was quite stable in the first quarter, also supported the robust increase in gold jewelry consumption," Cheng said.
In 2013, China became the world's largest gold producer, consumer and importer. Gold consumption surged 41.36 percent, while gold production went up 6.23 percent year-on-year, according to the association.
A report from the WGC said on April 15 that following the record level of Chinese demand in 2013, this year would likely see consolidation and succeeding years would see steady growth.
"Despite the steep growth in demand, the Chinese gold market will continue to expand, irrespective of short-term blips in the economy. The private sector demand for gold in China is set to increase from the current level of 1,132 tons per year to at least 1,350 tons by 2017," the report said.