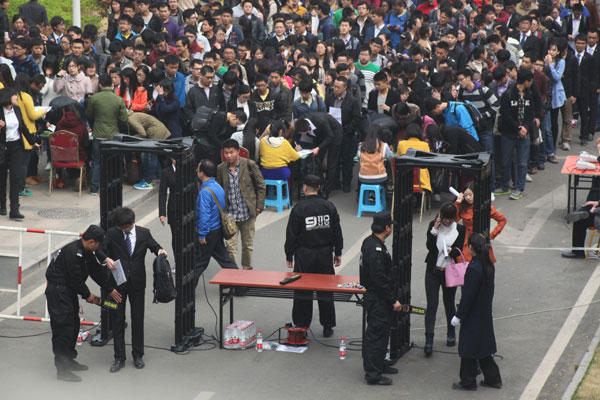 A job fair at Shandong University in March lured nearly 10,000 college students, who are becoming more pragmatic in starting work. ZHENG TAO/CHINA DAILY
More college graduates in China are opting for work experience instead of advanced degrees, a survey shows.
The pragmatic approach, coupled with a record number of students graduating from college, is expected to intensify competition in the job market, analysts said.
More than 76 percent of university students said they want to work after earning their degrees this summer, up from 68.5 percent in 2012 and 73.6 percent last year, according to poll results from Zhaopin.com, a major online recruitment agency.
The annual survey also showed that about a fifth of respondents chose to further their education after graduation, while about 3 percent want to start their own businesses.
The survey, released on April 15, polled more than 52,000 college students nationwide. About 70 percent of those polled were final-year undergraduates, with the rest being advanced-degree students.
Zeng Hao, a 25-year-old media major, managed to land a job in a publishing company in Zhongshan, Guangdong province, before he receives his master's degree from the University of Macau in June.
"Work experience really matters in the publishing industry, and a master's degree is enough for an entrant to land a job," he said.
Wei Guihong, a program administrator at the School of Foreign Studies at Nanjing University, said about 60 percent of the school's graduates enter the labor market every year.
She said that some differences in students' choices after graduation are due to their majors. "More and more students majoring in a foreign language choose to go abroad to continue their studies to improve their language skills," she said.
Liu Junsheng, a researcher at the Labor and Wage Institute of the Ministry of Human Resources and Social Security, believes that economic conditions play a vital role in shaping college graduates' choices.
"The global economic crisis in 2008 created a hard time for many employers. There were fewer job opportunities in the market, which forced many students to postpone entering it," he said.