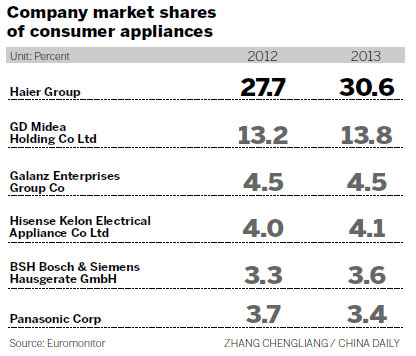 BSH Bosch and Siemens Home Appliances Group expanded its refrigeration production capacity by adding a new factory in Chuzhou, in Anhui province, on Thursday to tap China's lucrative high-end home appliance market.
It is the second factory in which the German company has invested to manufacture refrigeration products in Chuzhou. Phase One of the project received 90 million
eu
ros ($124.3 million) to create a high-end energy-saving refrigerator. Products including side-by-side refrigerators and multidoor refrigerators aim to meet the needs of consumers in both China and overseas.
"This will become the group's first and largest refrigeration product manufacturing base of its kind, with an annual output of 5 million refrigerators," said Roland Gerke, chairman and president of BSH Home Appliances Holding (China) Co Ltd.
Gerke said the new factory will cater to Chinese consumers' growing demand for better refrigerators. "In the 1990s, Chinese consumers were satisfied with a simple fridge, and in the 2000s, a few consumers got a first taste of multidoor refrigerators through imports. But today, the majority of customers want high-class products, and we are determined to satisfy that need."
According to BSH, the group reached double-digit growth in China last year, contributing to its rise of more than 7 percent in revenue. The company secured its position as the world's No 3 household appliance manufacturer with sales of approximately 10.5 billion euros in 2013.
But according to data from Euromonitor International, foreign consumer appliance brands have lagged behind their local rivals. Haier Group, Midea Holding Co Ltd, Galanz Enterprises Group Co and Hisense Kelon Electrical Appliance Co Ltd were the top four in terms of market share last year. BSH ranked as the first foreign brand in the top five players in terms of retail volume, followed by Panasonic Corp. Its market volume has risen from 2.6 percent in 2008 to 3.6 percent in 2013.