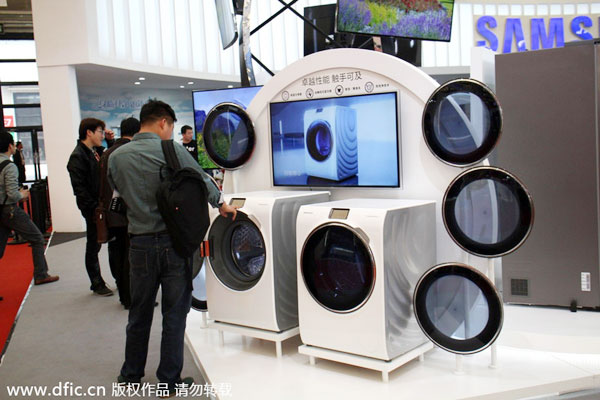 Visitors look at homee appliance displayed at the 2013 Appliance World Expo in Shanghai, March 20, 2014. [Photo/icpress] 
SHANGHAI - China's home appliance manufacturers are introducing smarter interactive products, as the Internet forces many industries to upgrade and meet demands for user-friendliness.
About 97 percent of Chinese customers want smarter home appliances, especially TVs, according to a report by the China Household Electrical Appliances Association (CHEAA).
Over 90 percent of the 500-plus manufacturers gathered in Shanghai last week for the fourth Appliance World Expo, organized by CHEAA, are touting smart devices.
"The Internet is transforming the whole industrial chain of home appliances, pushing it to be more interactive and smarter with big data and cloud computing," said Bu Zhengfa, head of the China National Light Industry Council.
Established Chinese home appliances firms are under pressure from high-tech start-ups and know how important it is to upgrade their designs and business models in an increasingly Internet-savvy world. The world's largest home appliance maker Haier is showing off a modularized smart TV with personalized functions. Another TV manufacturer, TCL, has collaborated with online video firm Iqiyi.com to offer customers an integrated product with rich video resources.
Appliances such as air purifiers are gaining popularity as people become increasingly health conscious, worried about smog and other environmental hazards.
"Interactivity and health are the orders of the day for the appliance sector," said Jiang Feng, chair of CHEAA.
The "Broadband China" strategy which was floated last August to boost information consumption, aims to expand broadband coverage in both rural and urban areas, with broadband speeds to reach 4 megabytes per second (Mbps) and 20 Mbps respectively by 2020. Work on the fast 4G network is underway.
"We can expect smarter designs in products, business models and customer services," Jiang added.