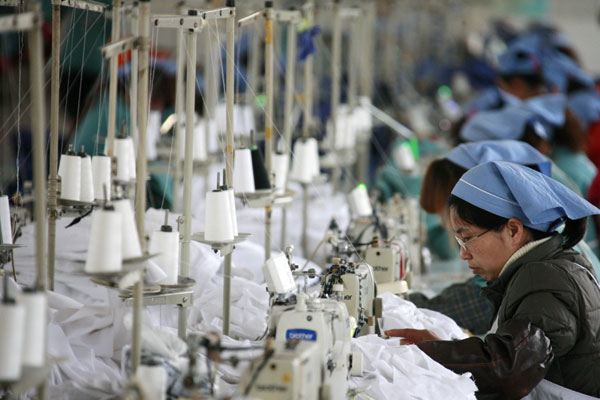 Workers sew garments at a factory in Huaibei, Anhui province. [File photo/China Daily]
BEIJING -- Chinese small businesses eligible for a tax break may enjoy the policy directly without an approval, China's taxation authority has clarified.
The State Administration of Taxation (SAT) said in a statement that small firms with annual taxable income under 100,000 yuan (about $16,000) may have their business income tax halved without approvals.
On April 8, Chinese authorities rolled out the tax break, which is valid from Jan 1 this year until the end of 2016, shortly after a cabinet executive meeting, at which the government announced an economic package to address downward pressure.
"Eligible small firms are only required to put their financial conditions on record at local taxation authorities, even though the firms have no complete accounting books," said the SAT statement.
Those that had fully paid business income tax before April 8 can get refunds, according to the statement.
The tax break came amid an economic slowdown. China's GDP rose 7.4 percent year on year in the first quarter. Although the growth outpaced market estimates, it was still slow compared to the 7.7-percent growth in the fourth quarter of 2013 and marked the lowest quarterly growth level since the third quarter of 2012.
Small and micro firms serve as the foundation for continuous and steady economic growth, according to SAT.
By the end of 2013, there were about 11.7 million small and micro companies in China, accounting for 76.6 percent of the total number of firms in the country.