As the country's power grows, Britain can be a useful role model, academic says
China can learn great soft power lessons from Britain in making its values understood and appreciated internationally, says Leslie Young, an economics professor at the Cheung Kong Graduate School of Business in Hong Kong.
Young says the way Britain initiated the modern world by making its language, traditions and culture accepted in many Western countries is a crucial skill that will help China gain international respect commensurate with its newfound economic might.
At the same time, China can learn more about how to communicate with the West through its relations with Britain, many of whose values and norms dominate the way the modern world functions.
"Britain initially started the modern world. Everyone uses English as a universal language. The suits that gentlemen around the world wear is an English gentleman's suit. The (globally accepted) institutions of law, finance and accounting are British," Young says.
Just as Britain was very powerful in the colonial era, China now has an unparalleled global importance but, because China's rise has been so fast, it has outrun its understanding of itself and of the world, and this can be dangerous, Young says.
He compares China's rise with a young person who has just inherited a large sum of money and is bound to make mistakes sooner or later. One way this can be avoided is by learning from Britain's history, he says.
"China has a lot to learn from the UK, and the UK is the most obvious source because it is the most successful example of a peaceful power and a cultural empire in the world."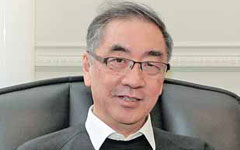 Leslie Young says China can learn more about how to communicate with the West through its relations with Britain. Cecily Liu / China Daily
Young was speaking at CKGSB's
Europe
an headquarters in central London not far from landmarks such as the Houses of Parliament, Westminster Abbey and the Tower of London, which many Chinese tourists visit every day.
But Young says it is not good enough for them simply to take photos of these tourist spots without understanding the deep symbolic meanings behind their history.
Young says the knights in armor with their swords at the Tower of London represent the catalyst of democracy in Britain because the knights' initial request to the king to share power resulted in its diversified distribution. This power later trickled down to landowners and peasants.
"When you have swords and armor, what you have is the distribution of power. The Western system that we see today is inherited from that distribution of power, and that's how parliament started."