Structural reforms will support a sustainable growth model and lift the country into the ranks of developed nations, Gao Changxin reports from Shanghai
It's all about trade-offs in the world of economics. Ideally, China would maintain its high growth while pushing steadily ahead with structural reforms, revamping its growth model and eventually making the jump that Japan and Singapore made from developing to a developed countries.
In reality, its not that easy.
China has been facing major challenges since a broad reform agenda was announced during the Third Plenum of the 18th Central Committee of the Communist Party of China in November. The agenda aims to put China on a sustainable path of growth.
It's widely believed the economy expanded at its slowest pace in the first quarter this year since 2009. The consensus among economists is that GDP increased 7.2 percent year-on-year, the minimum level that Premier Li Keqiang has said is needed to ensure the creation of 10 million jobs annually.
The first-quarter GDP figure is due for release on Wednesday.
In China, employment has absolute priority: Leaving tens of millions of migrant workers idle could easily foster social unrest, which is the last thing that Beijing wants to see. So it all boils down to a simple choice: Stimulate growth to create employment, which runs counter to the policy of deleveraging, or stick closely to the reform agenda and risk a further slowdown.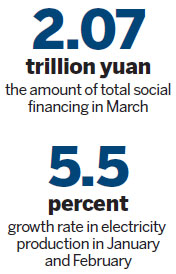 Elsewhere, the choice may not be as hard. Reforms don't necessarily translate into a slowdown everywhere. But, in China, a reform-induced slowdown seems inevitable because much of the reform centers on ending excess investment and industrial overcapacity. Those are just the things that previously powered higher reported economic growth rates.
Two years before the key Party meeting, rebalancing efforts had already pared some 3 percentage points off China's expansion rates. GDP growth was 10.3 percent in 2010.
There is little doubt that the proposed reforms, if fully implemented, will boost productivity in the long term, but there are some short-term costs, said Zhang Qi, a Shanghai-based analyst with Haitong Securities Co Ltd.
In his annual Government Work Report in March, Premier Li made it clear that a growth rate that is too low is unacceptable.
"Growth is the key to all the pivotal issues in our country. We have to hold firm to the focus of economic development in our work and maintain a proper growth rate," Li said.