"It was an important order for us because it was also the first big order that we got from a Chinese construction company for an overseas project." The scope of the agreement covers not only the supply of tramcars but also includes maintenance services, he says.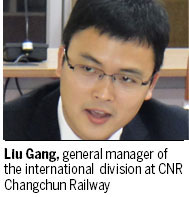 The cooperation between the two Chinese companies goes back to the 1970s, when some of the locomotives built by CNR were used in the Tanzania Zambia Railway project.
At the same time, the Chinese company is also banking on winning more tramcar orders in Africa through direct bidding. The Ethiopian order, however, is a challenging task because it calls for trams that come with a lot of additional built-in features.
"Addis Ababa is located 2,400 meters above seas level so the carriages need to be able to withstand the harsh effects of ultra-violet rays. Moreover, Ethiopia has a long rainy season, which makes it imperative for the carriages to be extremely water and lightning proof," Liu says.
"We also have to do tests to make sure that these trams operate normally even during the worst flood days."
Wang Yi from the company's technology department says the technology used for the Ethiopia train project is different from that in China. "Here they are low-floor trams, which means the floor of the trams is about 0.33 meters above the ground, while the high-floor trams are about 1.1 meters," Wang says.
"By using low-floor trains, we can eliminate the need for platforms and also ensure that trains can travel side by side with buses. Such an approach will also significantly lower the overall project costs."
Most of the trams used around the world are low-floor, because they are cheaper and more convenient, Liu says. "The big drawback is that they carry fewer passengers than high-floor tramcars. So for crowded cities with dense populations, they are not suitable."
After the light train project is finished, CNR will keep 50 Chinese technicians in Addis Ababa to offer training and support services.
The Chinese company is also supplying 30 tramcars that will run on the new Addis Ababa-Djibouti railway line. The rail project is expected to connect the Ethiopian capital to its major port and spur economic activity. The existing line, built by the French in 1917, is no longer used and has been abandoned because of wear and tear.