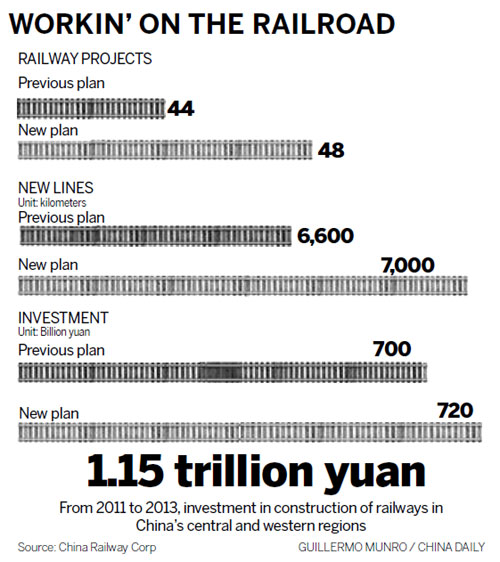 China's national railway operator announced in a report on Wednesday that it will launch 48 new rail lines this year, a substantial increase from the 44 projects budgeted at the beginning of the year.
"Based on the demands from social and economic development and rail transport, we have decided that 48 new projects ... will be launched this year," said Sheng Guangzu, general manager of the China Railway Corp, in a report by People's Daily on Wednesday.
"More than 7,000 kilometers of new lines will be put into operation this year and an additional 20 billion yuan ($3.2 billion) will be added to the previous budget for this year's railway fixed asset investment."
The previous plan set at the beginning of the year budgeted 700 billion yuan in fixed asset investments, 44 new projects and 6,600 km of new rail lines, according to China Railway Corp, which is under the Ministry of Transport. The remarks from Sheng came amid fresh speculation that the building of new lines had been suspended or even abolished due to financial difficulties in the railway sector.
On the sidelines of this year's NPC meeting, Sheng dismissed claims that his company is seeking government remission from 2.6 trillion yuan of debt.
According to the National Audit Office, China Railway Corp had roughly 2.9 trillion yuan in total debt by the end of June 2013. The company reported 6.5 billion yuan in losses for the first six months of last year and it borrowed 218.8 billion yuan from domestic and international financial institutions during the same period, according to its latest financial report.
Sheng said that 78 percent of the operator's construction investments will target China's central and western regions. It estimates that 86 percent of new rail lines within these two regions will begin operations this year.
According to a five-year plan from 2011 to 2015, 230,000 km of new railway lines will be built in the central and western regions of China with an investment of 1.85 trillion yuan.
The general manager said from 2011 to 2013, 1.15 trillion yuan had been invested in these regions.