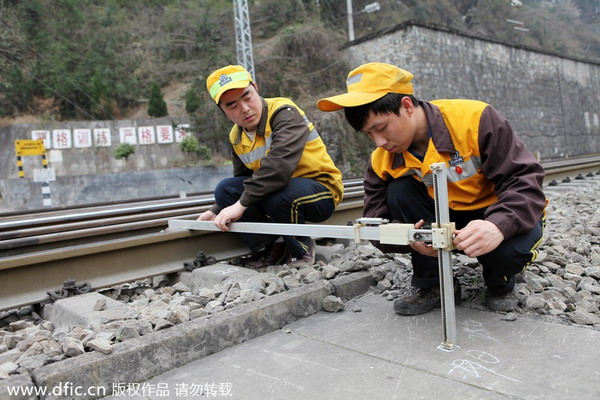 Technicians take railway measurements in Xi'an, Shaanxi province, March 19, 2014. [Photo / dfic.cn]
Investment has again emerged as a key means to prop up the economy as a run of disappointing economic figures have raised concerns that economic growth in the first quarter might slip below the official target of "about 7.5 percent".
The Southern Hainan provincial government has planned a 1.8 trillion yuan ($290 billion) investment package that includes a highway network, a medical tourism zone and a space exploration theme park, China Securities Journal reported. A program of coordinated development for Beijing-Tianjin-Hebei is also gaining traction.
As speculation rose as to whether some provincial governments may again be resorting to their own versions of an investment-spearheading stimulus package, experts dismissed the possibility of local government racing each other to roll out such packages.
"Local governments have limited scope to prime the pump of the economy because they are burdened by heavy debt," said Liu Shengjun, an economics professor at the China Europe International Business School.
Instead, the central government, which carries a much lower debt ratio, will step in, using investment to spur the economy.
Of the three major "targeted stimulus" measures announced after Wednesday's State Council executive meeting, which was presided over by Premier Li Keqiang, two were about investment: greater support for the redevelopment of run-down urban areas and more investment in railway construction.
"Accelerating the redevelopment of shantytown areas is a mandatory task for improving people's lives. It also could effectively pull up investment and boost consumption," a statement from the State Council said. It also said that more investment in railways could increase revenue and pull up a number of related industries.
For the first time, the nation will establish a special institution under the China Development Bank, a policy bank empowered to issue special bonds to finance government-subsidized housing projects.
In the railway sector, the government vowed to deepen investment regime reforms. Measures include setting up a long-awaited development fund, more types of financing bonds and greater participation of private capital.