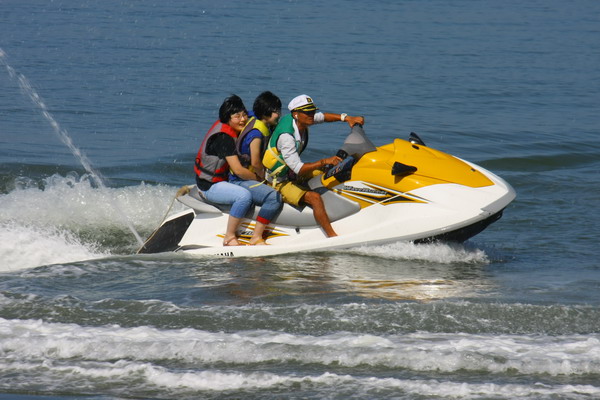 Tourists sail at sea in Sanya, Hainan province, Feb 1, 2014. [Photo by Sun Qing / Asianewsphoto] 
The yacht industry enters a more tempestuous time as the economy slows down, Xie Yu reports from Sanya in Hainan province
Wealthy people in China are developing a passion for sailing, but the weakening macroeconomy combined with the effects of the frugality and anti-corruption drive are creating a headwind that is preventing the industry from progressing fast.
A total of 800 million yuan ($129 million) of order contracts were signed during last week's China Rendezvous, an exhibition focused on a high-end yacht promotion held in Sanya, in southern China's island province of Hainan.
"The number was a little down from the 1 billion yuan order book in 2013. Actually, the order value has not changed dramatically in the past five years that we have held China Rendezvous," said Lily Chen, an information officer at the exhibition.
Sanya Visun Royal Yacht Club, one of the nation's biggest yacht clubs, told China Daily that it has more than 700 members. About 95 percent are individuals, while 5 percent are company members.
"Membership recruitment expanded most quickly in 2010, when Hainan was picked by the national authority as an 'international tourist island', and plateaued in the past two years because of the sluggish economic outlook," the company said in a statement.
Although the yacht business in China has not grown as rapidly as some industry insiders expected, it still looks to be in good shape, in Sanya at least.
Official statistics show Sanya as a destination now attracts the highest number of people in China from the international yachting community. In early 2013, there were 219 berthing yachts of which 142 were registered offshore. The city now has more than 800 berths at three mature marinas.
"More people are buying yachts for personal amusement, while the percentage of those purchasing vessels to conduct business and improve relationships with governments is falling, mainly because of the drive by the central government to eliminate corruption and emphasize austerity," said a salesperson of a well-known international yacht brand.