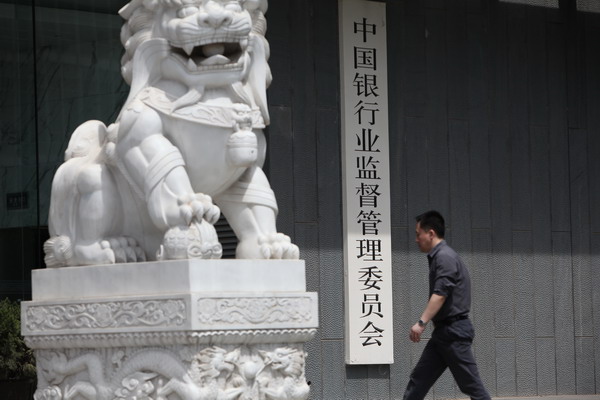 The China Banking Regulatory Commission will join the central bank to regulate the online finance industry. Provided to China Daily 
China's State Council, or its cabinet, approved the formation of an Internet finance association to promote self-regulation of the online financial industry. The association, which will run under the leadership of the People's Bank of China, needs ratification by the Ministry of Civil Affairs, an industry source who declined to be named said.
The China Banking Regulatory Commission will be mostly responsible for regulating peer-to-peer lending and the central bank will regulate third-party payment services, Yang Xiaojun, the CBRC's deputy director of the supervisory cooperation department for banking innovation, said.
Crowdfunding is likely to be regulated by the China Securities Regulatory Commission and the China Insurance Regulatory Commission will likely regulate Web sales of insurace, Yang said.
"We will issue a general regulation jointly under the leadership of the central bank, and each commission will issue detailed rules in its specialized field of supervision," Yang said.
"CBRC will possibly set up a new division or an association, or allow local government financial offices to implement the upcoming regulations."
The CBRC began work on drawing up the regulations over a year ago.
China has increased efforts to regulate Internet financial services. The central bank moved on March 14 to suspend virtual credit card products and QR code payments, citing potential security loopholes.
PBOC Governor Zhou Xiaochuan said China will not ban Internet finance but will improve regulation.
"Improvements must be made in existing policies, supervision and regulation as they cannot cope with new things such as Internet finance and guide its healthy development," Zhou said last month.
A special committee of Internet finance was formed by the nonprofit Payment and Clearing Association of China on March 26. The association runs under central-bank supervision, and the special committee is headed by Ma Mingzhe, chairman and chief executive officer of Ping An Insurance (Group) Co of China, Ltd.
The committee aims to "strengthen communication and cooperation among all circles of the Internet finance industry, safeguard legal rights of the industry, promote self-regulation and prevent risks posed by online financial services," according to a statement on its website.
Its members include banks, securities traders, Internet companies, peer-to-peer lending platforms and third-party payment service providers. Some of the best-known members are five State-owned commercial banks, China's Internet giant Tencent Holdings Ltd, and Alibaba Small and Micro Financial Services Group.