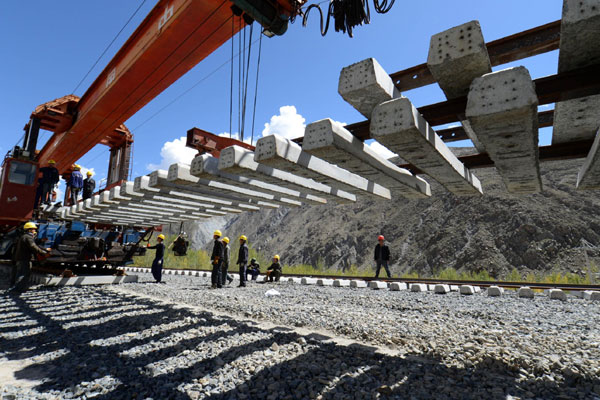 Workers are busy at a construction site of the railway linking Lhasa and Xigaze in Southwest China's Tibet autonomous region, September 24, 2013. [Photo/Xinhua] 
LHASA - The addition of new lines to Tibet's rail infrastructure is set to further transform the region's fortunes in 2014.
The autonomous region in Southwest China has benefitted enormously since the Qinghai-Tibet railway opened in 2006, and the annual meeting of Tibet's regional legislature was alive with talk of two more lines that it is hoped can consolidate economic growth.
"The construction of a railway linking [regional capital] Lhasa with Xigaze, the second-largest city in Tibet, will be completed this year," said regional chairman Losang Jamcan at the five-day meeting, which concluded on Tuesday.
Construction of a line between Lhasa and Nyingchi, a prefecture in Southeast Tibet that borders India, will also kick off in 2014, according to Jamcan.
The 1,956-km Qinghai-Tibet railway running from Golmud in northwestern Qinghai province to Lhasa has proven effective in boosting local business.
Official figures show Tibet's gross domestic product has soared from 34.2 billion yuan ($5.4 billion) in 2006 to 80.2 billion yuan last year, an average annual growth of at least 10 percent.
The railway has brought a surge of tourists, boosting Tibet's tourism, hospitality and manufacturing sectors.
The autonomous region received 1.8 million tourists from home and abroad in 2005, one year ahead of the opening of the landmark rail link, while it received 12.9 million tourists in 2013, according to the regional tourism bureau.
Tourism revenues grew to 16.5 billion yuan in 2013 from 1.94 billion yuan in 2005, it added.
Many Tibetan farmers and herdsmen have embraced the new opportunities. Hostels and restaurants have sprung up along the railway in the past seven years.
Many that have profited from the tourism boom are plotting more success as the number of visitors looks likely to keep booming.