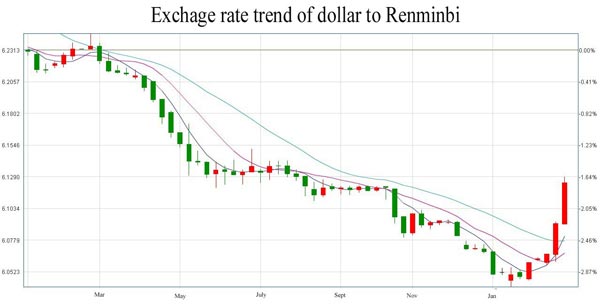 BEIJING - The latest round of yuan volatility during the past week is normal, China's forex watchdog said on Wednesday.
Recent movements of the renminbi, or the yuan, resulted from the market correcting previous yuan trade strategies, said the State Administration of Foreign Exchange in a statement.
Two-way fluctuations of the yuan will be normal because of reforms in the yuan forex rate formation mechanism, and more of a role played by the market, it said.
The two-way fluctuations will help boost international income balances, improve the external economic environment and guard against financial risks, the statement said.
China's domestic foreign exchange spot change rate on Tuesday hit a seven-month low, according to the statement.
The yuan weakened 8 basis points to 6.1192 against the US dollar on Wednesday, according to the China Foreign Exchange Trading System.
In China's foreign exchange spot market, the yuan is allowed to rise or fall by 1 percent from the central parity rate each trading day.
Renminbi weakens for seventh day