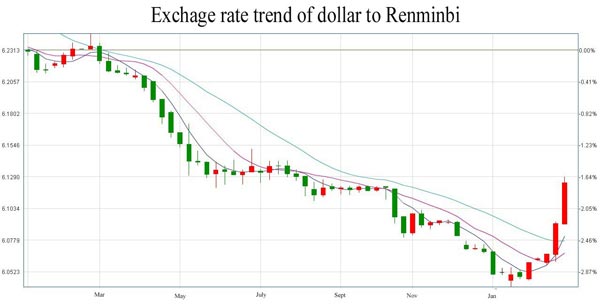 Economists say the central bank wants to lower expectations for further gains
The yuan slid for a seventh day on Wednesday, sparking speculation that the central bank aims to end the nearly decade-long trend of steady appreciation.  
The Chinese currency Renminbi, or the yuan, weakened 8 basis points to 6.1192 against the US dollar on Wednesday, according to the China Foreign Exchange Trading System.
The currency is down almost 1 percent against the dollar since Feb 17.
Finance Minister Lou Jiwei said that fluctuation is natural and a small decline doesn't signal depreciation, according to Bloomberg News.
Economists said that the People's Bank of China is engineering the easing to lower expectations of further appreciation.
"The PBOC has adjusted the median rate higher, prompting market expectations of depreciation," said Raymond Yeung, greater China senior economist for Australia and New Zealand Banking Group Ltd.
He said the latest economic statistics are also dampening market confidence in this year's performance by the Chinese economy.
The Markit/HSBC Purchasing Managers' Index is expected to fall to 48.3 in February from 49.5 in January, the lowest since July last year. A number below 50 indicates contraction.
Since July 2005, when China began liberalizing the exchange rate, the yuan has gained about 35 percent against the dollar.
Don't miss: