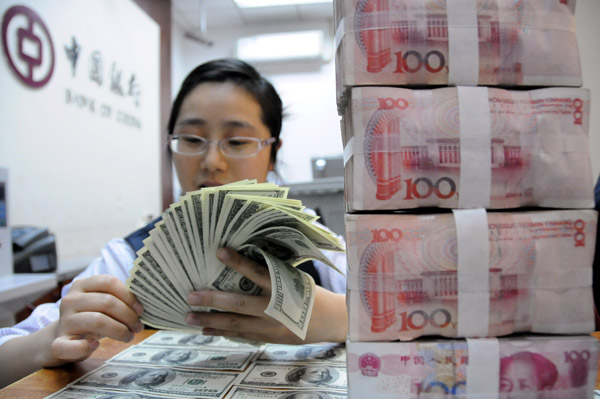 A clerk counts currency at a Bank of China Ltd branch in Nanchong, Sichuan province. The yuan has depreciated almost 1 percent against the dollar since Feb 17. [Photo/Xinhua]
Chen Xingdong, chief economist at BNP Paribas, said that in the past year the currency's appreciation has hurt China's exports.
Chen said the PBOC is trying to take advantage of the US Federal Reserve Board's tapering policy to buy more dollars, which is weakening the yuan.
Chen dismissed the idea of a huge decline in the yuan and forecast the daily trading band will be widened to 2 percent.
The band, which is 1 percent at present, was last widened from 0.5 percent in April 2012.
Yeung said that the yuan's weakness is temporary and appreciation will resume, although the exchange rate will be more volatile.
He added that this round of depreciation may end before the "two sessions", the annual meetings of legislators and policy advisers in Beijing. Those meetings are scheduled to start in the first week of March.
He said he expects positive policies to emerge from the meetings, which will further influence the yuan's value.
ANZ has forecast the exchange rate will pierce the threshold of six yuan per dollar in the second half of this year and reach 5.92 by year-end.
Albert Chan, managing director in the banking industry practice of consultancy firm Accenture Plc, said that the yuan will continuously appreciate against the dollar as part of its internationalization.
"It's believed that the yuan needs to be progressively allowed to appreciate to be close to its true value," said Chan.
He said the exchange rate will fall below six yuan per dollar and, in the long run, the stronger Chinese currency will generate inflation in Hong Kong.
"Given that the Hong Kong dollar is pegged against the US dollar, the yuan's rate against the Hong Kong dollar will further rise," he said.
Large-scale imports from the mainland, combined with rising investment and spending by an influx of mainland tourists, will bring inflation to the special administrative region.
Don't miss: