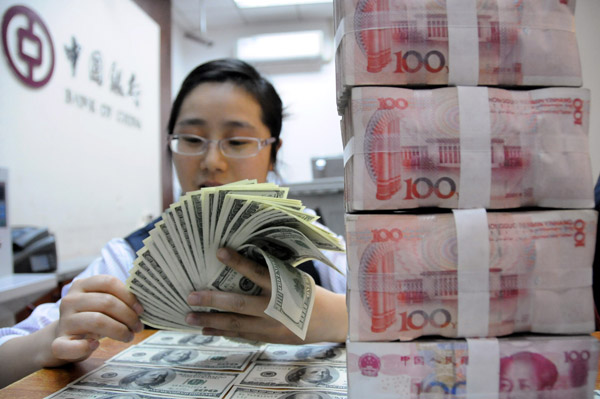 A clerk counts currency at a Bank of China Ltd branch in Nanchong, Sichuan province. The yuan has depreciated almost 1 percent against the dollar since Feb 17. [Photo/Xinhua]
HONG KONG - Yuan deposits and outstanding yuan certificates of deposits totaled more than 1 trillion yuan ($163 billion) at the end of last year in Hong Kong, accounting for 70 percent of the offshore pool of yuan liquidity, Hong Kong's Financial Secretary John Tsang said Wednesday.
In his budget speech, Tsang said yuan trade settlement conducted through Hong Kong banks exceeded 3.8 trillion yuan last year, with a year-on-year increase of 45 percent.
Hong Kong is the world's largest offshore yuan business center. In the past few years, yuan transactions conducted between local and overseas banks have increased substantially. The amounts due to and due from overseas banks have each increased significantly by more than eight times, from less than 20 billion yuan at end-2010 to some 160 billion yuan.
"We shall continue to support our country's accelerated drive to realize capital account convertibility and internationalization of the yuan by acting as a bridge between our nation and the rest of the world, and serving as a platform for mainland funds and enterprises to reach out to the international market," Tsang said.
As the world's financial centers are developing offshore yuan business, Tsang called for greater efforts to strengthen the city' s existing services, including yuan trade financing, yuan- denominated financial products and cross-border reinsurance, direct cross-border investment from the mainland, asset management and fund development, in order to maintain the city's position as the world's largest offshore Yuan business center.
Renminbi weakens for sixth day
Yuan may end one-sided appreciation: experts
A record year for foreign renminbi exchange 
China's CSI300 index in biggest loss in 7 months