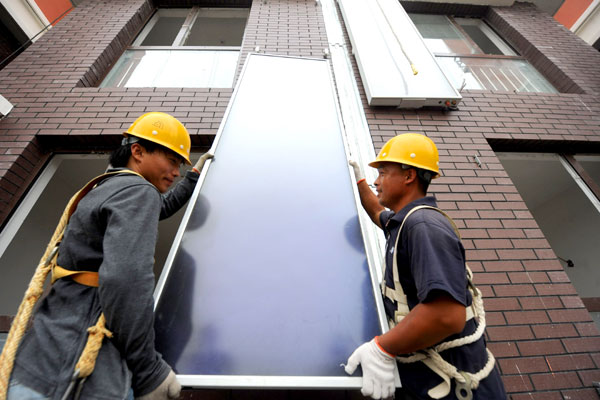 Government-subsidized homes in Beijing's Haidian district were equipped last year with environmentally friendly solar water heaters. The capital will provide 50,000 units of government-subsidized homes this year. Xinhua Photo
Move a priority to aid lower income families in capital, Hu Yuanyuan reports
On the first page of the 2014 calendar, Wang Yiguo, a 28-year-old company executive, wrote down his new-year wish: Good luck with my attempt to win an apartment subsidized by the government.
With a monthly income of 8,600 yuan ($1,387), the young man is finding it increasingly difficult to buy an apartment in the capital where the price of a home in a suburban area has now exceeded 25,000 yuan per square meter.
Wang's wish came from the Beijing municipal government's commitment to further boost the supply of government-subsidized homes to address the housing difficulty of middle- and low-income families.
City Vice-Mayor Chen Gang said during the Beijing Municipal Committee of the Chinese People's Political Consultative Conference (CPPCC), the city's political advisory body, that the municipal government will add 50,000 units of government-subsidized housing into the market this year, which is expected to largely ease the housing difficulty for middle-income families.
In October, the Beijng municipal government announced it would encourage the availability of owner-occupied commercial residential projects at 70 percent of the market price. Buyers are not allowed to sell the home within five years and the government has the priority to purchase it back or share 30 percent of any price gain after that period.