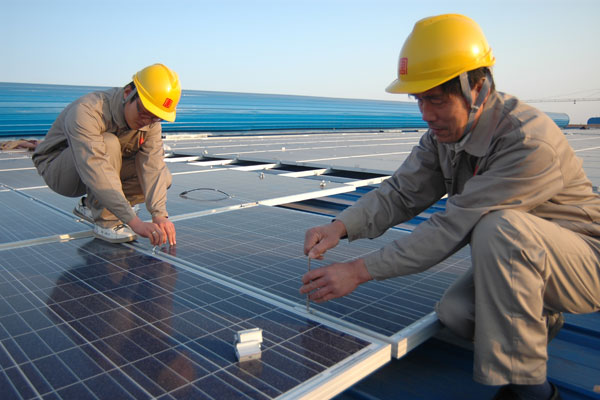 Technicians install solar panels in Liaocheng, East China's Shandong province, Otc 30, 2012. [Photo by Zhang Zhenxiang / Asianewsphoto]
BEIJING - A preliminary ruling by the Ministry of Commerce on Friday said solar-grade polysilicon from the European Union (EU) has been dumped in the Chinese market.
Solar-grade polysilicon from the EU was subsidized and as a result, imports of the product substantially impaired China's domestic sector during the period of probe, said a statement on the ministry's website.
Given the complexity of the case, the ministry will not levy temporary anti-subsidy and anti-dumping duties on the imports for the time being, the statement said.
The ministry launched the probe on Nov 1, 2012 in response to requests filed by Chinese polysilicon manufacturers amid an import surge and price decline of European products. On Oct 31, 2013, it announced that it would extend the probe by another half year to May 1, 2014.
Solar-grade polysilicon is a key material for making solar cells.