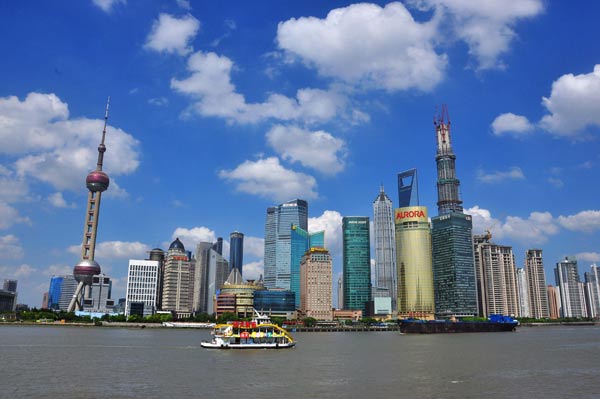 The Pudong New Area in Shanghai is home to many foreign companies. As of September, the number of new foreign companies set up in China reached 16,351, which was a drop of 9.29 percent over the same period a year earlier. ZHOU DONGCHAO / FOR CHINA DAILY
Capital requirements scrapped in move to make business easier
Foreign companies in China should see an easing of company registration requirements like the ones their Chinese counterparts enjoy, an official said on Thursday.
According to the "national treatment" principle, when the government lowered the threshold for business startups, foreign businesses in China should receive the same treatment, Zhang Mao, head of the State Administration of Industry and Commerce, confirmed at a news conference in Beijing on Thursday.
An Oct 25 State Council executive meeting, presided over by Premier Li Keqiang, opted to streamline the company registration process in China in an effort to adhere to international standards and encourage private investment.
According to a statement from the meeting, the minimum registered capital requirement of 30,000 yuan ($4,900) to start a limited liability company will be scrapped, as will the 100,000 yuan requirement for a one-person limited liability company, and the 5 million yuan requirement for an incorporated company.
There also will be no more limitations on the proportion and duration of the paid-in capital, and this will no longer be a matter of industry and commerce registration.
Instead, shareholders (sponsors) will determine the amount and duration of registered capital at their own discretion but be held liable to the authenticity and legitimacy of their payment of investment.
But this does not reflect a substantial loosening of the investment approval system for foreign businesses in China, as they still are subject to an "industrial investment directory" set up by Chinese government, analysts said.
"This new reform is only confined to the company registration area. In fact, most foreign countries have no requirement for 'registered capital' in terms of setting up a new company," said Huo Jianguo, president of the Chinese Academy of International Trade and Economic Cooperation.
"This is the easiest part we can take on," he added.