Integration of free trade agreements in East Asia urged
Commerce ministry negotiator suggests perfect scenario is to create 'common, highly-effective' zone
A senior Chinese trade official on Thursday called for the integration of free trade agreements in East Asia, while experts called for an acceleration of domestic reforms geared toward a market-oriented economy to facilitate the establishment of trade pacts.
Yu Jianhua, China's deputy international trade negotiator at the Ministry of Commerce, said at a FTA forum held in Qingdao on Thursday, "the ideal picture, we believe, is the opening-up of different FTAs to form a common, and highly effective free trade zone."
Yu also emphasized the need for strategies to avoid unfairness stemming from the different coverage of regional FTAs and development imbalances caused by regionally or globally institutionalized trade rules set by developed economies.
"China prioritizes multilateral trade agreements and then regional ones, while advocating the integration of different FTAs to avoid fragmenting global value chains and trade rules," Yu said.
"The Trans-Pacific Partnership and the Regional Comprehensive Economic Partnership have common ultimate goals and will be the stepping stone for integrating Asia-Pacific's FTAs if they are inclusive, open and transparent," he added.
In the last 20 years, East Asian economies set up 63 FTAs, accounting for one-third of the world's total. Most of the trade agreements were finalized recently.
China and South Korea launched bilateral FTA talks in May 2012, while the trilateral FTA negotiations between China, Japan and South Korea started in November 2012.
Talks on the Regional Comprehensive Economic Partnership, or RCEP, led by the Association of Southeast Asian Nations, kicked off in November and are expected to be concluded in 2015.
Meanwhile, the United States-pivoted Trans-Pacific Partnership, or TPP, is expected to be completed by the end of the year.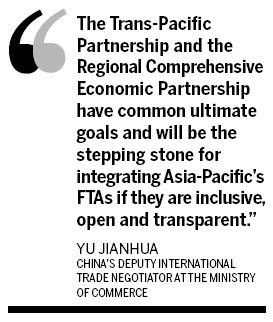 "The flurry of regional FTAs stems from the stagnation of trade talks under the World Trade Organization. China will prioritize its trade talks with South Korea and Japan, while steadily advancing the RCEP," Yu said.
"Many FTAs in the region overlap, and will probably affect trade with different rules of origin, contradictory standards, and so on. We need to further integrate these FTAs and develop a common trade pact to eliminate that impact," said Masahiro Kawai, dean and chief executive officer of the Asian Development Bank Institute.
Zhang Yunling, director of International Studies at the Chinese Academy of Social Sciences, added that less than 20 percent of the expected results of FTAs in East Asia have become real.
"Compared with the fast trade development in East Asia, the region's investment and finance services are less developed. It's necessary to fasten regional FTA integration to create a favorable investment and finance environment for the region's production network and consolidate its role in the world's manufacturing center," said Huo Jianguo, president of the Chinese Academy of International Trade and Economic Cooperation, a think tank for the ministry.