Ministry hails FTA with Switzerland
The new China-Switzerland free trade agreement represents a win-win situation for both countries, Assistant Minister of Commerce Yu Jianhua told a news conference in Beijing on Monday, which will allow improved market access and cement trade links.
"The bilateral FTA is China's first free trade pact on the European continent and has great significance," Yu said.
"It leads to win-win results and China's gains are remarkable."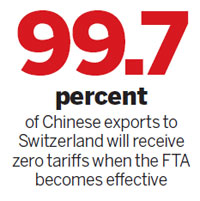 Although Switzerland is a small country outside of the European Union, it has close economic and trade links with the EU.
"The bilateral FTA will help focus China's goods exports, investments and trade in services in Europe. The new trade rules forged in the FTA will also pave the way for China to advance other FTA talks," added Yu.
Commerce Minister Gao Hucheng said the bilateral FTA - one of China's highest level and most comprehensive free trade pacts - will deepen China-Switzerland economic and trade ties, and various industries of the two countries complement each other, according to a statement issued on Sunday.
Yu said that the two governments are now completing the necessary ratification processes and were hopeful of formally signing the agreement in July.
Negotiations for the FTA started in January 2011, and the ninth round of talks was concluded on May 11.
The visiting Premier Li Keqiang signed a memorandum of understanding on concluding negotiations on a bilateral FTA with Swiss President Ueli Maurer in the Swiss capital Berne on Friday.
A month ago, Beijing inked an FTA with Iceland, which also falls outside the 27-nation EU bloc.
Up to 99.7 percent of Chinese exports to Switzerland will receive zero tariffs after the FTA becomes effective, Yu said.
Zero tariffs will placed on all of China's manufactured exports, including textiles, clothing and auto parts, as well as more than 960 Chinese agricultural exports, accounting for more than 76 percent of China's total agricultural exports to Switzerland, despite Swiss sensitivities in agriculture.
Switzerland also lowered tariffs on 403 agricultural products from China and cut 40 percent from agricultural tariffs on some processed agricultural products from China, in addition to scrapping tariffs on the industrial parts, the first country to do so, Yu said.
In services, Switzerland has agreed for the first time to set a time limit for reviewing visa, work and residence permit applications.
The country has also consented to talks on cooperation in traditional Chinese medicine as well as further concessions in tourism and translation services, Yu said.
Switzerland said it will help improve after-sale