Auto industry faces uphill challenges: Experts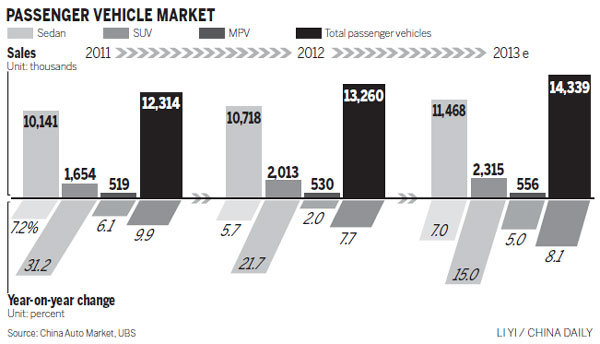 A leading industry analyst has warned that China's automobile sales could slow considerably within the next two years, choked mainly by the inability of roads and highways to cope with the growing volume of traffic, particularly in the major cities.
Hou Yankun, head of China Equity Research and head of Asia Autos at UBS Securities, said that 2013 will witness the "last wave" of sales surges in China's auto industry.
He estimated total sales to grow by 8.4 percent year-on-year in 2013, with sales of passenger vehicles up by 8.1 percent from 2012.
But Hou stressed that bottlenecks already exist in infrastructure development, which is likely to lead to more vehicle purchase restrictions in the near future.
China's auto sales increased at compound annual growth rates above 20 percent between 2005 and 2010, but that level has already dropped significantly since 2011, mainly as a result of a slowing economy and exit of stimulus policies.
Many analysts still hold the view that the Chinese market is promising due to its low penetration rate, which is around 8 percent, compared with 50 percent in developed economies.
Moreover, affordability of cars is rising, as prices continue to drop and people's income swells.
Theoretically speaking, if car affordability continues to follow the examples of Japan and South Korea, sales could maintain rapid growth for at least 10 years in China.
But Hou said the ability of the country's roads to cope with that level of growth is already being stretched.
Data show that there are about 550 cars for every kilometer in Beijing, compared to 300 even in packed Hong Kong.
The average annual mileage of cars in the mainland is five times that of Hong Kong, added Hou.
"It will be a challenge for the government to raise the speed of road construction, to keep pace with the acceleration of auto ownership," he said.
Mega-cities including Beijing and Guangzhou have already introduced car-purchasing restrictions, and people in Shanghai have to enter an auction for car licenses because of massive demand.
Statistics show cities such as Fuzhou, Tianjin, and Nanjing are all suffering from low average driving speeds caused by chronic traffic congestion, which may force the local governments to consider purchasing restrictions, Hou said.
Some industry commentators noted that China's auto industry is also starting to face an oversupply of vehicles.
Several of the country's major automakers have raised their capacity targets over the next few years, which could push vehicle production past government projections, listed as 37 million units in the 12th Five-Year Plan (2011-15), to as much as 40 million by 2015.
KPMG warned in a report that vehicle "manufacturing overcapacity is apparent", and the Chinese government, industry experts and analysts have also alerted automakers of the potential problem.
"If China could effectively cut the occupancy of roads by a single car through improving its public transportation system, and sufficiently exploring the rural market, it could still achieve a high auto penetration rate of 50 percent," Hou added.
But that requires a stronger economy as support, which Hou estimates could take 10 years.
Eric Wu, a hedge fund analyst based in Shanghai, said he agreed that automaker margins are shrinking due to fierce competition.
"But I remain more optimistic about market growth," he added.
"New products are going to stimulate people's desire to buy, and the vast rural area is waiting to be explored."